Go nuts for Nutella in Leiria! Portugal's first "nutelleria," a sweet shop devoted to the chocolate-y, hazelnut-y goodness of Nutella is open on Largo Paio Guterres in the historic city center. Crowds are lining up for churros, waffles, crepes and croissants….all slathered with the popular chocolate cream.
--------------------------------------------------
--------------------------------------------------
Anyone who was ever a kid knows that Nutella is the sweet hazelnut chocolate spread manufactured by Italian company Ferrero. It has been on store shelves and family cupboards since 1964. Nutelleria offers a menu of Nutella variations to satisfy every sense of nostalgia….transforming every customer into a chocolate-loving youngster.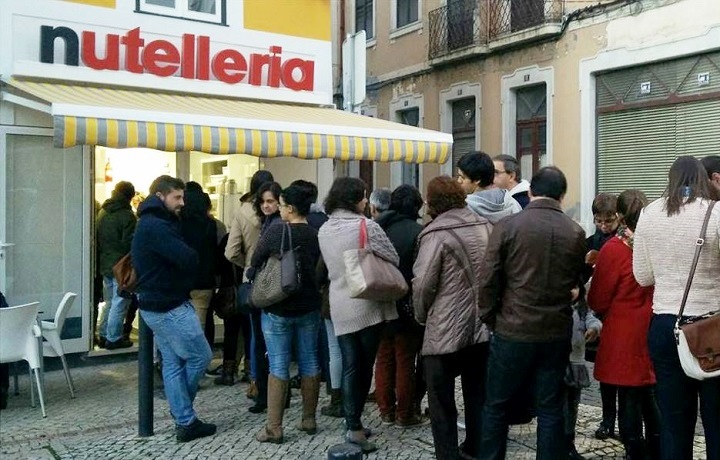 No doubt a favorite at Nutelleria is the Choco Kebab. This vertical rotating mass of sweetness (resembling a Greek gyro roasting spit), is actually a refrigerated block of layers of milk chocolate and white chocolate hazelnut cream. The nutell-ista cuts curls of chocolate and places them inside a soft and warm "choco pita". Add a drizzle of chocolate sauce and a dusting of powdered sugar…and you've got a unique-tasting, super-delicious treat.
For those (unfortunately) born without a sweet tooth, Nutelleria also serves savory sandwiches and wraps.
For more information, visit the Nutella Leiria Facebook Page.
Nutelleria
Largo Paio Guterres 18 (near the Gato Preto)
Leiria
Central Portugal
Hours:
Sunday to Thursday – 9:30 to 20:00
Friday & Saturday – 9:30 to 24:00
Closed on Tuesdays
Photos courtesy of Nutelleria Leiria Facebook Page