In the last decade, the Algarve  has built a solid reputation as a destination for haute cuisine. In fact, this southern region has more Michelin stars than other parts of Portugal, including Lisbon and Porto.  No doubt, a major influence in this recognition is Chef Hans Neuner at Ocean Restaurant at VILA VITA PARC Resort & Spa resort.  With thoughtful cooking, outstanding service and an opulent setting, Ocean is an essential experience for "aficionados" of fine dining.
--------------------------------------------------
--------------------------------------------------
Upon entering Ocean, it's at once easy to see how the restaurant came about its name. Large picture windows along the south wall provide unobstructed views of the Atlantic.  The dining room is stunning.  Tastefully elegant in contemporary clean lines with a palette of deep sea blue and dove gray to match the vast ocean.  Contrasting the dark hues are striking white corals, each a work of art unto themselves. Exquisite modern design Austrian crystal stemware and silver cutlery on the tables complete the décor splendidly.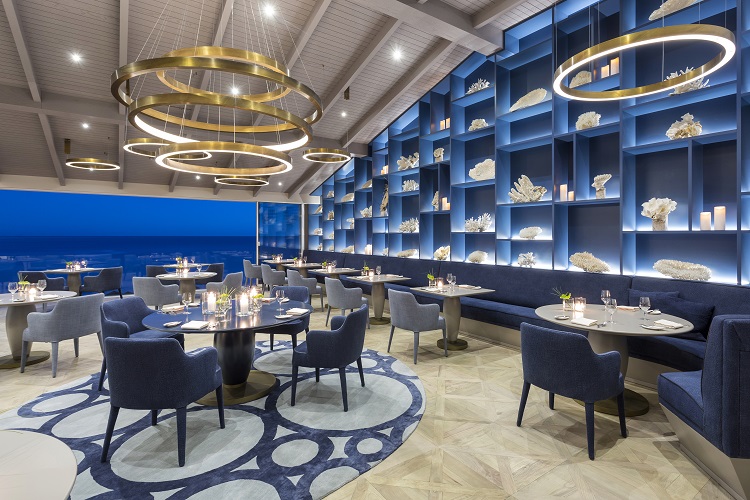 At the helm is Austria native Neuner who quite literally grew up in a kitchen. Both his father and grandfather were cooks. Yet, much of Neuner's professional training came under the guidance of Karlheinz Hauser, during his nine years at the Adlon Hotel in Berlin. He honed his culinary skills further at Tristan Restaurant (two Michelin stars) in Mallorca, Spain and Seven Seas (one Michelin star) in Hamburg.
In 2007, VILA VITA Parc invited Neuner to head up the kitchen at Ocean. He was given carte blanche to build and lead a team toward his aspiration of winning his own Michelin star. Just two short years later, the dream was realized. A Michelin star was awarded to Ocean in 2009, based on Neuner's technical precision, keen sense for creativity, and passion for using only locally-sourced and fresh products.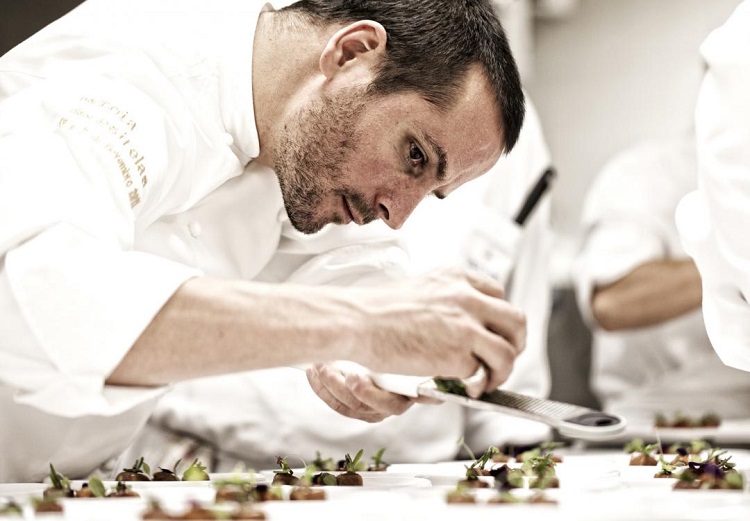 Always innovating and persistently improving, Neuner and his team were awarded a second Michelin star in 2011. Further accolades include earning two stars in the "Red Guide" of Portugal and being named Portugal's Chef of the Year in 2009 and 2012.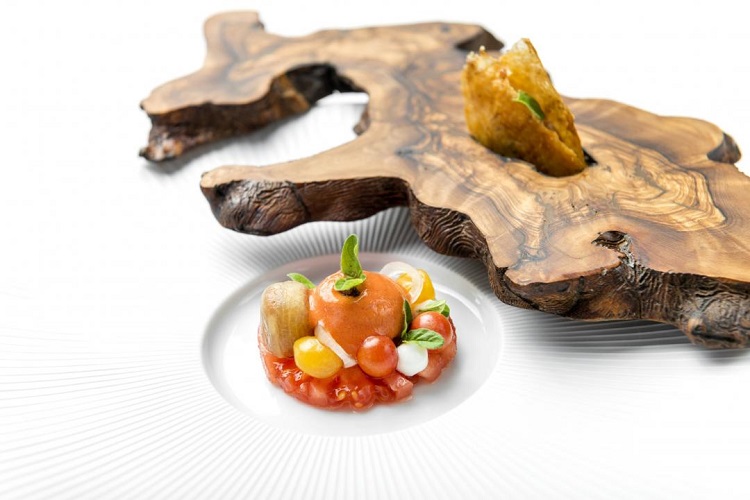 Chicken Piri-Piri
In this region of Portugal, Neuner has a cornucopia of ingredients as inspiration for his signature cuisine. Fresh fish and seafood from along the Algarve coast are selected daily. Fresh herbs and local products from the hillsides and valleys are abundant. And also, Ocean takes advantage of the relationship with its sister resort Herdade dos Grous in the Alentejo. Not only does this estate produce organic fruit and vegetables, but also high-quality olive oil, certified meats and award-winning wine.
The tasting menu is quite extensive. Although descriptions are minimal, the preparation, presentation and taste are beyond compare.
Pumpkin Egg, Yogurt, Poridge, Cauliflower
Chicken Piri-Piri
Oyster, Fois Gras, Azores Pineapple
Violet Prawn, Cutlefish, Yuzu, Kale, Daikon
Leek, Imperil Caviar, Lovage, Toucinho, Parsley Root
Atlantic Sole, Chickory, Crosne, Pérgord Truffles, Celery
Red Mullet from Sagres, Feioada, Sweet Potato
Black Pork Pluma, Green Apple, "Grelos", Mustard, Yeast
Raspberry Macaroon, Cedar, Lemon
Ovos Moles de Aveiro, Egg Yolk, Orange
Chocolate Maracaibo, Hazelnut, Lime Kumquat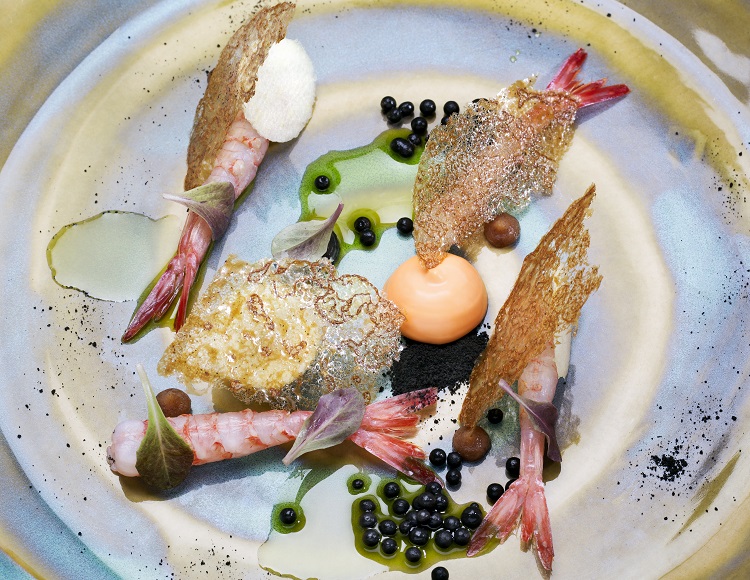 Violet Prawn, Cutlefish, Yuzu, Kale, Daikon
Four and six course tasting menus are €135 and €175 per person, respectively.
For more information, visit the Ocean Restaurante website.
Rua Anneliese Pohl
Alporchinhos
Porches
Algarve
Phone: + 351 282 310 100
Email: reservas@vilavitaparc.com
Hours: Wednesday to Sunday – 19:00 to 22:00
Please note:
■ Reservations Strongly Recommended
■ Dress Code – Elegant Eveningwear
■ Children – 12 Years and Older