Pap'Açorda opened its doors in 1981 and quickly became the fashionable place for traditional Portuguese food in Lisbon. For 35 years, the restaurant in Bairro Alto, started by noted restaurateurs José Miranda and Fernando Fernandes, was a favorite among locals and attracted a high-profile crowd. In 2016, traditional Pap'Açorda closed its doors. But have no fear. A new and better-than-ever, Pap'Açorda now resides in the über-hip Mercado Ribeira food emporium in Cais do Sodré neighborhood.
--------------------------------------------------
--------------------------------------------------
Whereas the former Pap'Açorda was small, rustic and intimate, the new PapAçorda is larger, open and modern. Taking the full first floor of the Mercado, the space is split into two rooms (one for smoking) and each with it's own bar. The kitchen sits in the middle, with chef Manuela Brandão reigning over preparation of the restaurant's classic dishes.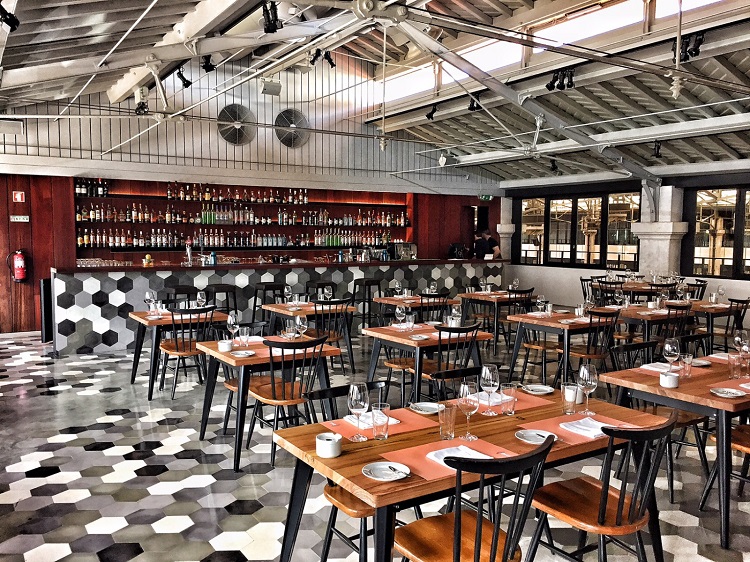 The name is a play on one of Portugal's favorite dishes: Açorda – a type of stew, made with bread and olive oil, and seasoned with garlic and coriander. At Pap'Açorda, there are shrimp (pictured at top) and codfish versions and well as the house specialty, Açorda Real, made with lobster and shrimp.
Pap'Açorda regulars are happy to know that many items from the original menu remain, including little tuna pies and fried sardine filets to start, a selection of açordas, lamb and fresh fish as mains, and the chocolate mousse (to die for!), served right at your table out of a giant mixing bowl to finish off the meal.
Pap'Açorda is open throughout the day. So, stop y at lunch and dinner, or anytime for a delightful snack, glass of Portuguese wine or cocktail.
For more information, visit the Pap'Açorda website.
Pap'Açorda
Avenida 24 de Julho
Mercado da Ribeira
No. 49, First Floor
Cais do Sodré
Lisbon
Phone: +351 21 346 48 11
Mobile: +351 91 179 84 50
Email: reservations@papacorda.com
Reservations Recommended
Hours:
Thursday, Friday & Saturday – 12:00 to 02:00
Sunday, Tuesday & Wednesday – 12:00 to 24:00
Also see our coverage of another José Miranda and Fernando Fernandes restaurant, Bica da Sapato