Uruguayan steaks in the Algarve? Sure! Claro! Any hip foodie in the Algarve knows that for fine natural grilled beef from Uruguay, go to Gourmet Natural at the Ermitage. Yet sometimes, the popular al fresco eatery is booked solid or closed for winter months. So, to appease our voracious appetite for this South American cuisine, the Gaucho Gods above have blessed us with a second venue, Parrilla Natural.
--------------------------------------------------
--------------------------------------------------
The team behind Gourmet Natural have opened this new venture not far from the first. It is on a hilltop off the road leading from Almancil to Vale do Lobo. Enter the gate and drive up the hill to the beautifully renovated villa.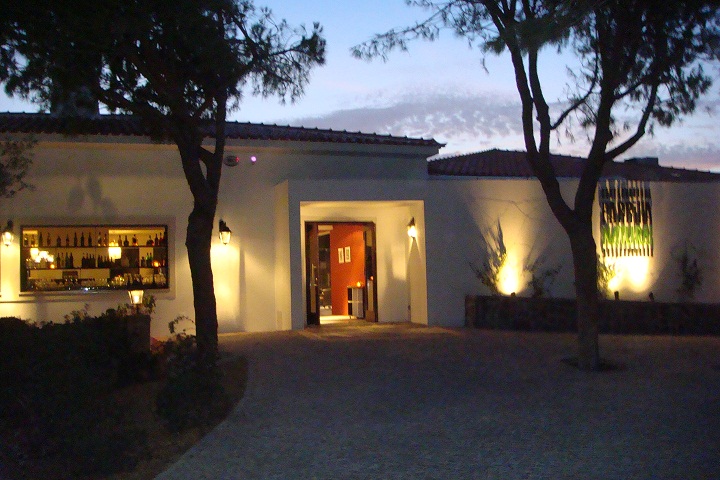 The villa you see from the road is a bit deceiving. As you walk through the front entrance, the full size of Parrilla seems to unfold before your eyes. Dining and lounging areas are designed as separate spaces on different levels. A large open kitchen sets the stage for the theatrics of flame grilling meats. But, it is the retracting floor-to-ceiling glass walls at the rear of the building that reveal the restaurant's greatest feature: a lushly-landscaped, multi-level terrace for dining under the stars.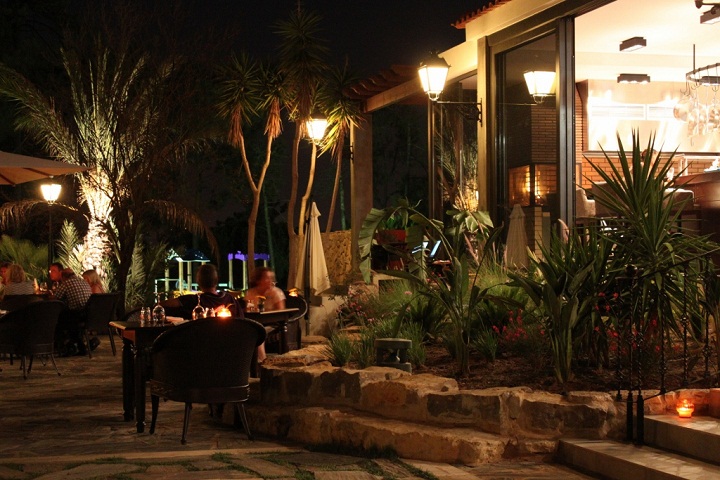 Sitting in this beautiful garden is a treat itself. Attention to detail is evident in the terrace design, the environmental lighting, the layout of stonework on the floor, and the richness of the foliage. It's truly a relaxing and satisfying atmosphere, unique to the dining scene in the Algarve.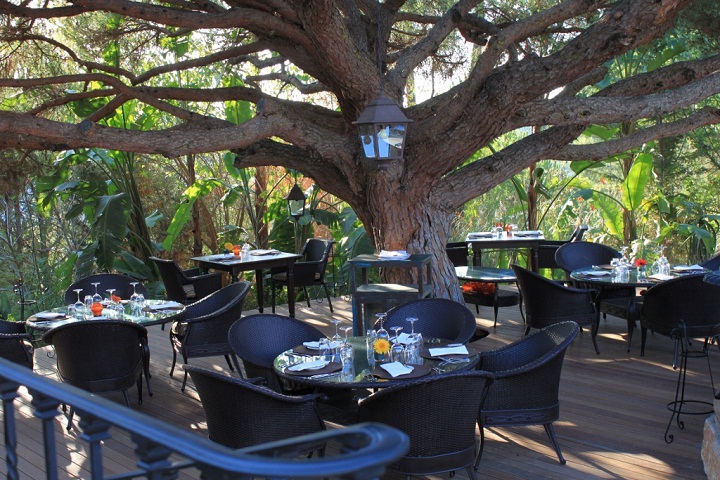 Of course, the focus of Parrilla is its natural steaks. Uruguayan beef is well-known for its high quality and delicious taste. In fact, 80% of Uruguay's meat product is exported to 100 countries. It is known to be extra-lean, high in anti-oxidants and all natural. And, the mostly-Uruguayan chefs at Parrilla are expertly trained to grill the meat to perfection.
A quick glance at the menu reveals these highlights:
Starters
Bolitas de Carne (meatballs with criolla sauce)
Pan Rustico (homemade bread with bacon, melted cheese, onions, olives & herbs)
Jamon Bellota (cured ham)
Brisas del Faro (crab cakes, prawn cocktail, seafood empanadas)
Steaks
Lomo (filet in 200 & 300 grams)
Picanha (rump steak 300grams)
Ojo de Bife (ribeye in 300 & 400 grams)
Bife Angosto (sirloin 300 grams)
Bracero de Hierrofor Four (grilled ribeye, sirloin, sausage, prawns & picanha)
Sides
Papas Fritas Caseras (homemade fries)
Gourmet (garlic & parsley potatoes)
Ñoquis Gratinados (grated potato gnocchi)
Tomato y Cebolla Asado (roasted tomato & onions)
Desserts
Chocolate Fondue
Apple Turnover Cake with Praline Ice Cream
Crispy Meringue with Peach and Lemon Cream
Chocolate Cream, Red Berries and Madeleines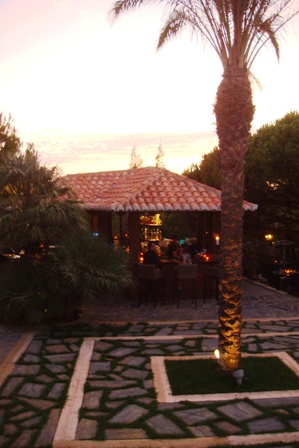 If you're not a fan of red meat, or looking for something lighter, Parrilla has non-beef items such as penne regate with prawn, lemon, ground pepper and cream, and ham and cheese crepe with wild mushroom sauce. Grilled chicken breast and fresh fish are also available.
In the summer, Parrilla Natural plays host to an active lounge bar scene. The large outside bar is surrounded by a terrace with tall bar chairs, separate from the dining area. It's a great place to grab a cocktail during warm Algarvian nights. When the air turns cool, there's a long bar inside at the entrance to accommodate vibrant mixing and mingling.
For more information, visit the Parrilla Natural website.
Parrilla Natural
(Road between Almancil & Vale do Lobo)
Almancil
Algarve
Phone: +351 289 350 040
Email: info@parrillanatural.com
Hours: Tuesday through Saturday – 19:00 pm to 03:00