Need to step away from hectic urban life but still want 21st century conveniences? Have we got a place for you. Immerse yourself in Portuguese village life while relaxing in a refurbished country house in eastern central Portugal. Passado de Pedra in Caria, is quaint and cozy with only six rooms, but generous in comfort and personality.
--------------------------------------------------
--------------------------------------------------
Although Caria is small by "city" standards, the village has a vast and diverse heritage. In fact, legend has it that a Moorish family lived in the village's most distinctive building, the Casa da Torre (Tower House). The daughter fell in love with the gardener, much to the dismay of her parents. They sent her away, where she took refuge in a cave. When she was away from him she cried a lot. Yet when she was near ("Ca") him, she laughed ("ria") a lot. Back to reality….Caria also comes from an Arabic word "Alcaria," which means "village." The Hebrew name was "Quiria."
Caria has a strong Jewish past. It was here, and throughout the region, that Jews came to escape the Spanish inquisition in the 15th and 16th centuries. At first, they were welcomed by then King João II, as astute businessmen and laborers. Later, João's predecessor King Manuel was forced by his in-laws, the Catholic Kings, to expel or convert the Jews to Christianity.
Many of the homes in Caria date to this period, and many still have Jewish or Christian iconography etched on the stones of the buildings.
The main structure of Passado de Pedra belonged to the great-grandfather of the present owner. The date of construction is unknown, but "1810" is engraved on a stone over the entrance. Now, fully renovated, the main house is the heart of Passado de Pedra. The property also includes a wine press room and hay barn. All structures have been transformed into hotel spaces.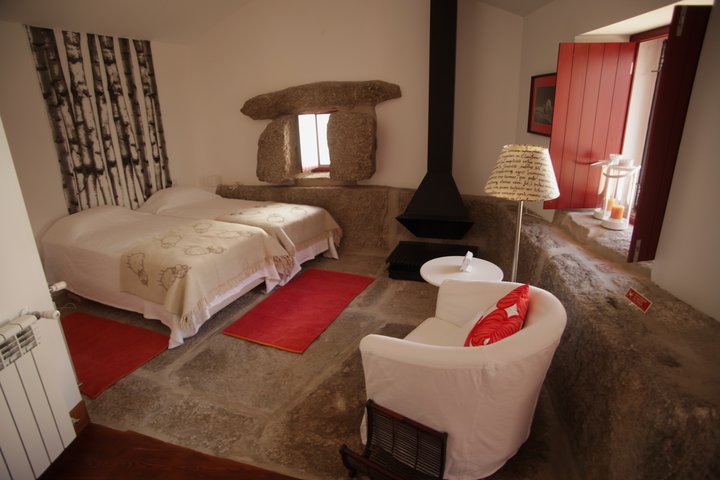 The six bedrooms at Passado de Pedra are quite unique and comfortable. The main building has three guest bedrooms and a spacious living area. The former wine press has two twin beds and a cozy fireplace. The former hay barn has another bedroom, as well as an apartment complete with kitchenette, lounge and fireplace.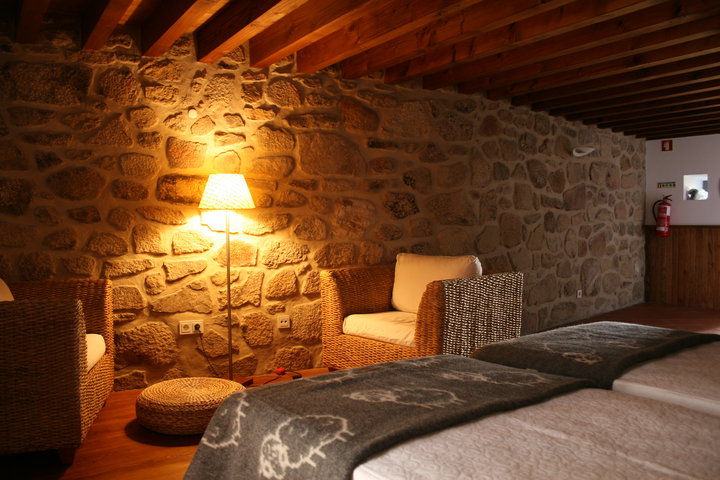 Breakfast buffet is served in the main building. Lunch and dinner can also be arranged with advance notice. However, it's probably a good idea to venture out into Caria and surrounding villages to taste the cuisine made from regional products such as "Serra" cheese, honey, chestnuts, cherries blood sausage and lamb.
For more information, visit the Passado de Pedra website.
Passado de Pedra
Rua Prof. Gracinda Galiano, nº1
6250-111 Caria
Castelo Branco
Central Portugal
Phone: +351 919 416 612
Email: info@passadodepedra.com.pt