Porto is feeling the soulful sounds of the Blues! The first edition of Porto Blues Fest, is set for 26-27 May in the Jardins do Palácio de Cristal. These special evenings will pay tribute to the greatest bluesman of all time, B. B. King, and the greatest Portuguese bluesman, Rui Veloso.
--------------------------------------------------
--------------------------------------------------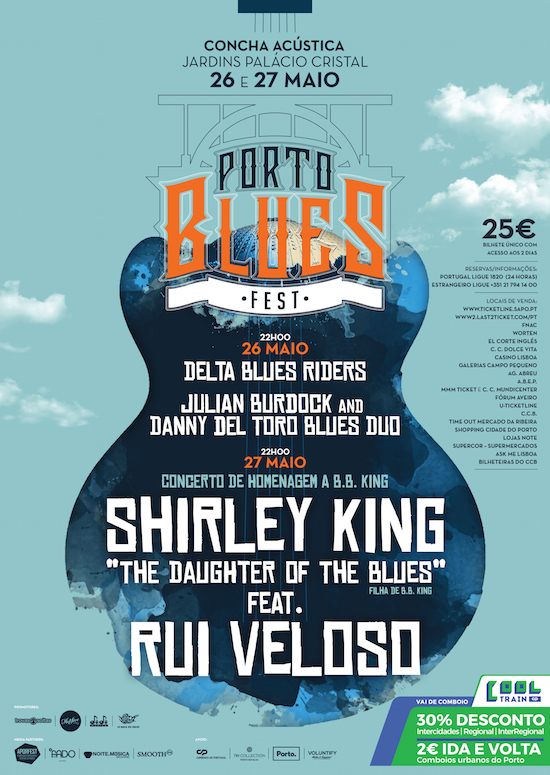 26 May @ 22: 00
DELTA BLUES RIDERS (Portugal)
Imagine a journey through the universe of the blues, via the road of confession. Stories of those who crossed the Mississippi Delta, on Interstate 55 from New Orleans to Chicago are revealed. The experience is a search for surrender through the gospel with the sound of the Hammond organ, together with the blues of a harmonica and the whine of a slide guitar.
JULIAN BURDOCK & DANNY DEL TORO (UK/Spain)
Julian Burdock, nominated for the British Blues Awards ten times, winner of the 2016 Blues & Soul Show Award for innovation, and the 2011 New Brunswick Battle of the Blues.
The concert of Julian Burdock and Danny del Toro is a melting pot of musical diversity, full of influences and styles, from the bottleneck blues to funk, including some original compositions. This experience features Burdock's incredible guitar and strong, sincere voice mixed with Danny Toro's fantastic harmonica. An amazing duo, whose ability to electrify the audience is unique and unstoppable, keeping the music pure.
27 May @ 22: 00 | Concert Honoring B.B. King
SHIRLEY KING BLUES BAND "The Daughter of the Blues" feat RUI VELOSO (USA/Portugal)
Shirley King "The Daughter of the Blues" invites Rui Veloso to participate in this tribute to his father B. B. King. The two will share the stage in what will be the highlight of the festival. B. B. King called Rui Veloso "My Portuguese Son". Veloso was the only Portuguese musician who ever shared the stage with the greatest bluesman of all time.
For more information, visit the Porto Blues Fest Facebook page.
Porto Blues Fest
Jardins do Palácio de Cristal
Porto
Two-Day Ticket €25.00 (Purchase online at last2ticket & ticketline)