Save money when travelling? Yes, it's true!
Imagine you're planning a trip from the UK to the Euro Zone or the United States. You've set aside a budget for spending on meals and shopping, but with currency markets on a wild ride, you're not sure how far this money will go. And, you dread that feeling of getting ripped off by the guy at the currency exchange stand at the airport.
Well, actually, there's a new way to avoid this anxiety and enjoy your time abroad. With the Premier FX Prepaid Currency Card, you can lock in a favorable rate before you leave and carry your money with you in the form of a debit card.
Premier FX is a currency transfer company designed to ensure clients get the most from their foreign exchange. We have introduced this product specifically for consumers living or travelling abroad. "The PFX Prepaid Currency Card is a new way for consumers to save money in their transactions at the retail level," explains Premier FX owner and chief executive Peter Rexstrew.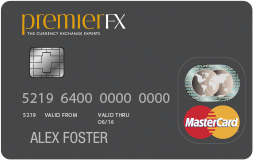 Cards are free to order and, actually, quite simple to obtain and maintain. Just register at www.PremierFX.com, or call the Premier FX office in Palma or the UK. Premier FX account directors are available to assist in the process, if necessary. Cards are mailed to clients' locations, and ready to use to make purchases and payments.
The prepaid card is backed by Mastercard®. This means cardholders can be assured their funds are secure. And, the debit card can be used wherever Mastercard® is accepted, including shops, restaurants, hotels, and cash machines in Mallorca, and millions of other retailers around the world.
"The card is perfect for travellers as well as expats living abroad without local banking services," adds Rexstrew.
The online system is designed for clients to "top up" their card at any time or from any smart device. Clients can also see recent transactions and review account balances.
For more information, visit the Premier FX Currency Card website, or contact:
Premier FX – Algarve Office
Rua Sacadura Cabral
Edificio Golfe 1a
Almancil
Algarve
Phone: +351 289 358 511
Email: info@premierfx.com