When the sun goes down on the beach, lights begin to glow and the rhythmic beats grow louder at one of the Algarve's hippest evening hangouts: Purobeach Lakside.  The stylish international set already know Purobeach as a chic night spot in Palma, Marbella, Barcelona, Toscana, Black Sea and the Conrad Dubai. Here in Portugal, hip locals and visitors gather for dinner and drinks at Purobeach at the Tivoli Marina Vilamoura hotel.
--------------------------------------------------
--------------------------------------------------
Nestled around a meandering lake, Purobeach Lakeside is a roomy multi-level space, with dedicated areas for dining, a bar and dance floor for mixing and mingling, and many intimate lounge areas with low-slung couches for chatting with friends. Tropical gardens and ocean breezes make for an exotic ambiance. Pop, house, electronic and lounge music is generated by resident and special guest DJs. Theme parties are scheduled on most weekends.
In the restaurant, the menu offers a perfect balance between international cuisine and Asian flavors. There are large and half plates of terrific salads, including goat cheese, deep sea calamari, Greek, Asian beef, soft shell crab and lobster.  Burger lovers enjoy the PuroBurger 200gr beef patty with bacon, cheese, lettuce, tomato, onion and country fries. Main courses, featuring imported beef and fresh local fish and seafood, are tempting.
 Click here to open and download the Purobeach Lakeside Restaurant Menu.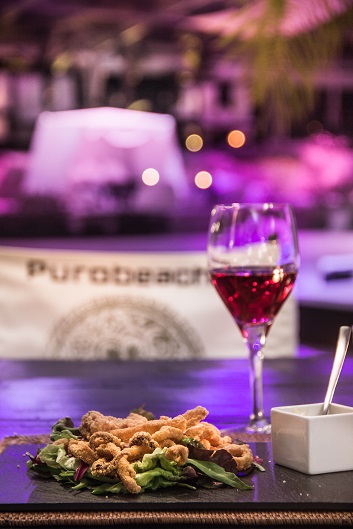 Purobeach Lakeside (left) Deep Sea Calamari (right) Lobster Salad
New for Summer 2016 is shisha! Spend a relaxing afternoon or evening lakeside with the refreshing and calming flavored tobacco. The selection of blended flavors include strawberry and mint, cherry, coke and watermelon, and blueberries, pineapple and peaches to name a few. Shisha is available from 12:00 to 19:00.
 Click here to open and download the Purobeach Shisha Menu.
For the cool nightlife lounge experience in the sunshine, check out Purobeach on the beach from 10:00 to 20:00. Sun beds, nomad tents, champagne and DJ music make up a dedicated space on the sand in front of the hotel. (Click here to learn more.)
For more information, visit the Purobeach Vilamoura website.
Purobeach Vilamoura
Hotel Tivoli Marina
Marina Vilamoura
Algarve
Phone: +351 289 303 740
Mobile: +351 912 180 623
Email: info.vilamoura@purobeach.com
Hours:
Restaurant – 19:30 to 23:00
Lounge/Nightclub – 19:30 to 24:00 (until 2:00 on party nights)