Your first impression of Quarenta e 4 will certainly be its grand space. The building was originally a warehouse; so much of its vastness still exists. But that's where similarities end. The space is now beautifully-appointed with modern décor and dramatic lighting.
--------------------------------------------------
--------------------------------------------------
A long cocktail bar greets you as you enter. No doubt this feature is popular with the cocktail crowd, allowing for ample room to mix and mingle. Adjoining this space is a mezzanine. Stuffed leather chairs are hard to deny when sipping a port and enjoying a cigar.
Beyond, the dining room is dramatically open to the first floor above. It is a room that seems both sophisticated, but also comfortably casual. Look up and you'll see the sushi bar and tables set aside for lovers of Japanese cuisine. This space is contemporary, minimally decorated in wood with tones of white and beige.
Chef Pedro Nunes is in control of the kitchen. His passion for gastronomy is evident in the way he pleasingly combines rich traditional cuisine with contemporary innovation. No doubt Nunes is inspired by his Portuguese background, but it is also possible to find hints of French and Spanish cooking in his dishes.
The menu is quite extensive, actually. It offers a nice selection of starters, fish, meats, beef and desserts, but also serves pastas, risottos, soups, fresh shellfish and side dishes that they call "delicacies." Some highlights from the menu:
Octopus carpaccio with olive tapenade
Baked brie with stewed pumpkin
Terrine of foie gras with port wine reduction
Grilled scallops with agridoce sauce
Grilled sea bass with prawn and seaweed rice
Roasted lamb
Pig's feet stuffed with game meat
Duck breast with raspberry sauce
Sirloin steak with green pepper sauce
Half-baked Chocolate cake with tangerine sorbet
Pera in muscatel confit with saffron foam
Mint Custard with apple glaze
Upstairs, Quarenta e 4 offers a full sushi menu proudly served by Sushiman Ruy Leão. Sit at the sushi bar to monitor preparation or enjoy dining with your friends at private tables. Either way, the Japanese menu tempts you with a wide variety of tempura, huramaki, gunkanmaki, futomaki, sashimi, temaki, hossomaki, niguiri and combination rolls.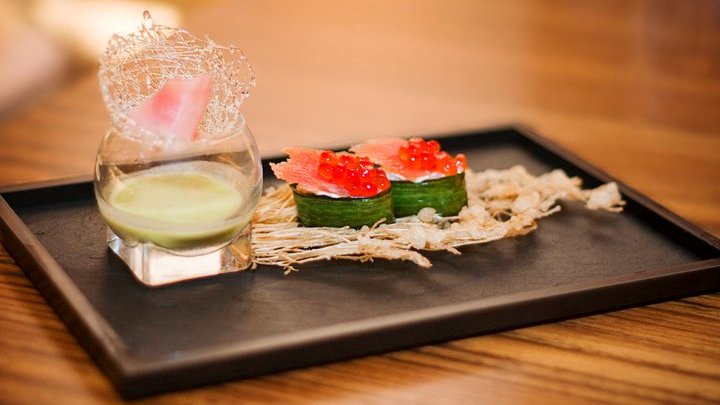 There are a multitude of flavors…and experiences… at this unique restaurant. For more information, visit the Quarenta e 4 website.
Quarenta e 4
Rua Roberto Ivens, 44
4450-246 Matosinhos
Porto
Phone: +351 229 363 706
Mobile: +351 934 485 465
Email: geral@quarentae4.com
Hours:
Monday – 20:00 to 24:00
Tuesday to Thursday – 12:30 to 15:00 and 20:00 to 24:00
Friday & Saturday – 12:30 – 15:00 and 20:00 to 01:00
Closed Sundays