Smack dab in the midst of all the action in the central Algarve is a quiet little oasis. You've probably driven past it numerous times, and never realized it was there. It hides behind a wall on the road between Almancil and Quarteira. The entrance is fairly non-descript and difficult to find unless you know where to look. This is good thing, because you really don't want too many people to discover your new secret of Quinta dos Amigos.
For many guests, Quinta dos Amigos is no secret. They keep returning year-after-year. Entering the small complex is like walking into a quaint little country village of colorful old world buildings, terraces, arch ways and bougainvillea. The only thing that gives this away as a hotel facility might be the seeing guests on lounge chairs around the pool.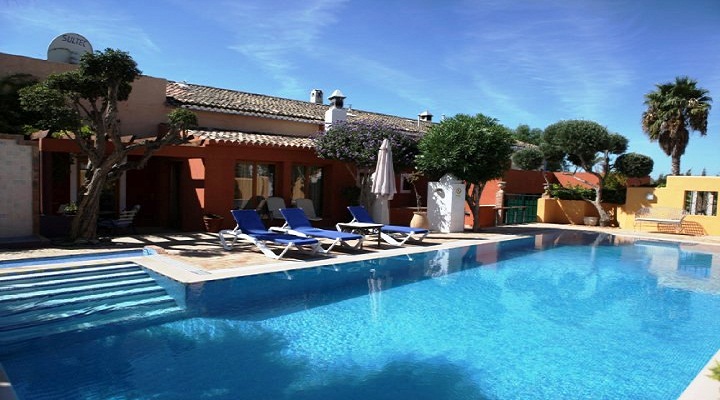 Isabel Vilela bought the 19th century farm property in the early 1990's. Since then, she has lovingly refurbished the farm houses and landscaped the property, creating a very pleasant atmosphere enjoyed by guests arriving from around the world.
--------------------------------------------------
--------------------------------------------------
There are 20 apartments on the property, ranging from studios to three bedroom units. Each apartment is different in design, and uniquely decorated in rustic colors and comfy furniture. Yet, amenities are modern; so you won't lack for conveniences. In fact, each room is stocked with dishes and wired for Internet. There's even a library onsite.
Quinta dos Amigos is only a five-minute drive to the beach, and golf courses of Vale do lobo, Vila Sol and Quinta do Lago. Restaurants are within walking distance. And the best part….Quinta dos Amigos is very reasonably priced, starting at just €65 per night in low season.
For more information, visit the Quinta dos Amigos website.

Quinta dos Amigos
Sítio das Escanxinas
8135-016 Almancil
Algarve
Phone: +351 289 395 269
Fax: +351 289 393 283
Mobile: +351 965 004 545
Email: Quinta_dos_amigos@hotmail.com