Some of the best life experiences happen in some of the unlikeliest of places. This is most certainly true of discovering fabulous restaurants off the beaten path. Recently, we visited a remarkable restaurant just a 15-minute drive west of Coimbra in central Portugal. It's Quinta São Luiz in Pereira. With elegant modern décor, delicious cuisine and exemplary service, Quinta São Luiz is a highly-recommended, sophisticated dining experience.
--------------------------------------------------
--------------------------------------------------
Quinta São Luiz first opened in October 2004. At that time, the owners had renovated an old olive oil press room from a traditional Portuguese farm, transforming it into an events and meetings facility.
The popularity of this location prompted a second phase of renovations. This time, the 17th century estate house of the farm was lovingly restored, remodeled and redecorated. Designers fused modern interpretations of Portuguese culture with contemporary elements to create an astonishingly elegant ambiance. In 2008, Quinta São Luiz opened its doors as a showplace restaurant of central Portugal.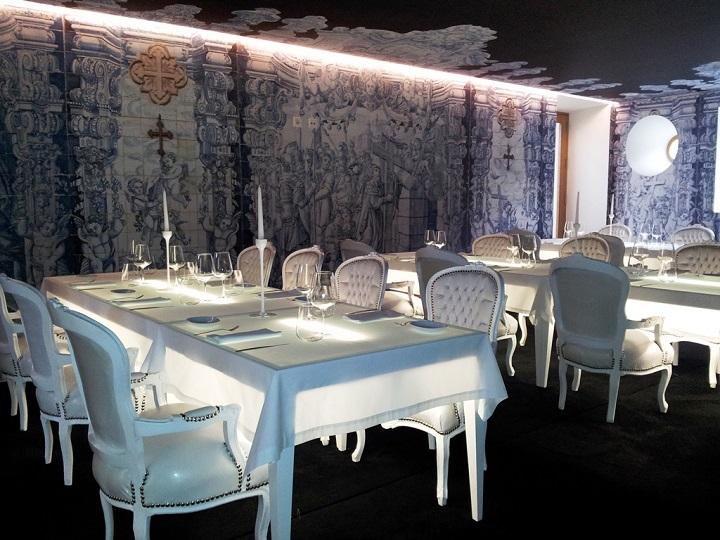 At that time, celebrity chef Henrique Sá Pessoa was contracted to develop a menu of signature dishes that would forever set Quinta São Luiz apart from other restaurants across the country. His inventive approach to traditional Portuguese flavors resulted in an original contemporary cuisine unique to the restaurant.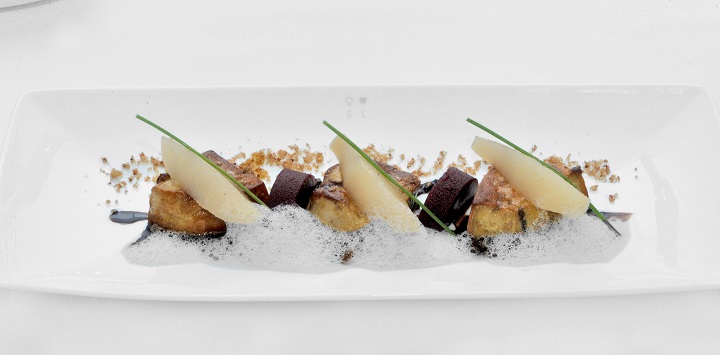 Today, Chef Helio Santos is at the helm of the kitchen, continuing to follow the gastronomic philosophy of Sá Pessoa, but also pursuing new dishes that are technically savvy, as well as innovative in taste and presentation. A sampling of the current menu follows:
■ Bacalhau (cod fish) carpaccio with strawberry salad and parsley emulsion
■ Escalope of foie gras sautéed with marinated pears and cherry gelatin.
■ Vanilla-infused shrimp with mango sauce and wasabi mayonnaise
■ Sea bream fillet, with tomato stuffed with crab açorda
■ Semi-cured bacalhau loin with mashed potatoes, black olive purée and
■ Crispy suckling pig with spinach purée and clam sauce
■ Supremo de pintada (guinea fowl) stuffed with mushrooms, served with carrot fondant and garlic noodles
■ Tranche of grouper with Seia ravioli, green asparagus and light mushroom cream
■ Petite gateau of caramel, with sorbet and passion fruit sauce
■ Symphony of oranges, with thyme ice cream
■ Strawberry and champagne soup, with seasonal fruit and lemongrass ice cream
After dinner, step into the bar for a Port or cognac. The space is modern, but retains many of the architectural elements of the former stables that once stood in its place.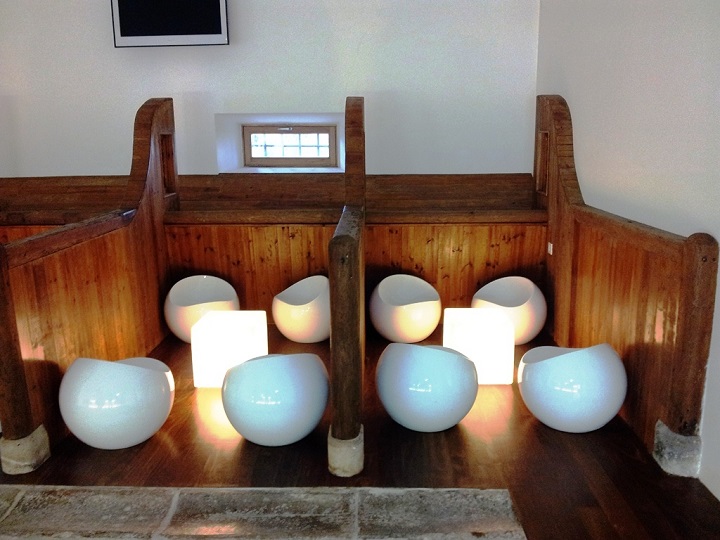 Besides a fabulous restaurant and bar, Quinta São Luiz has numerous facilities for special occasions, events and business functions. The Events Hall seats up to 550 comfortably. There's also a reception area, lounge areas, separate dining rooms and even a lovely green park for entertaining outside.
For more information, visit the Quinta São Luiz website.
Quinta São Luiz
Rua do Pedrão
3140-337 Pereira do Campo
Central Portugal
Phone: +351 239 642 000
Mobile: +351 962 056 035
Email: reservas@quintasluiz.com
Hours: Tuesday to Sunday – 12:00 to 14:30 and 19:00 to 23:00