A unique kind of art is currently in exhibition at the Fundaçao EDP in Porto. It's the 6th edition of Remade in Portugal. This year's theme is "Remade em Casa" ("Remade in the Home"). Architects, designers, communications teams and visual artists present works that rethink the domestic space as a creative place for ecological form, function and art. The exhibition runs through 30 December 2012.
————————————————–



————————————————–
Remade was originally created in Lombardy as "Remade in Italy" in order to spread the culture of ecodesign and sustainable development. From this seed, a network of eco-design organizations formed in Portugal as well as Spain, France, Chile, Brazil and Argentina.
Noted Portuguese artists and design studios taking part in the exhibition include:
Alda Tomás ■ Francisco Providence ■ Galula Studio ■ Graça Correia and Roberto Ragazzi ■ João Mendes Ribeiro ■ José Carvalho Araújo ■ Lorraine Pepper ■ Paula Santos ■ Paulo Costa ■ Pedro Sottomayor ■ Rita Garizo ■ Rui Grazina ■ Alzira Peixoto and Carlos Mendonca (Simpleformsdesign) ■ SOMA ■ Spal Studio ■ Gerardo Burmester ■ Joana Vasconcelos ■ Luís Palma ■ Nuno Cera ■ Patricia Garrido ■ Paul Catrica ■ Pedro Tudela ■ Pedro Valdez Cardoso.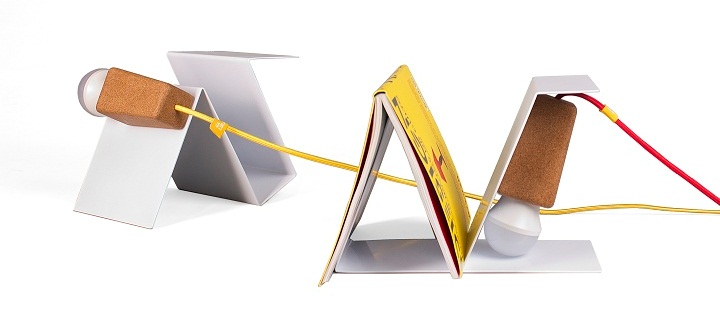 Glint is a versatile lamp consisting of two parts that function individually. The LED light in cork and adhered with magnets can illuminate for 50,000 hours. The metal supports acts as a book shelf or magazine rack for your favorite reading materials.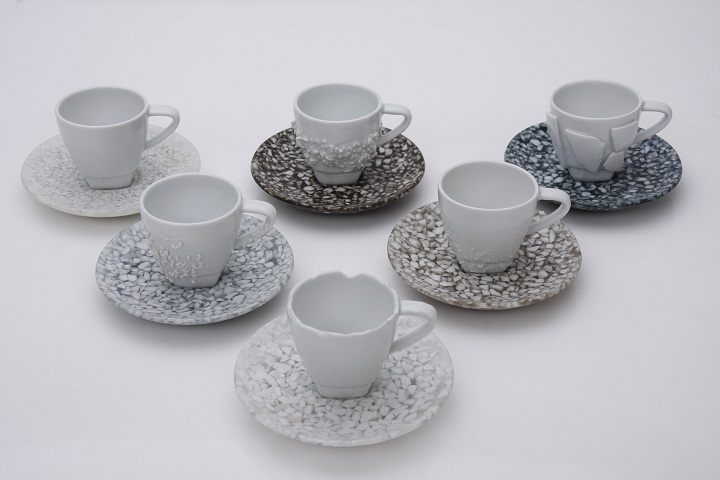 Cups and saucers from Spal Studio are made from 45% epoxy resin, 1.5% dye and 54.5% ground recycled porcelain.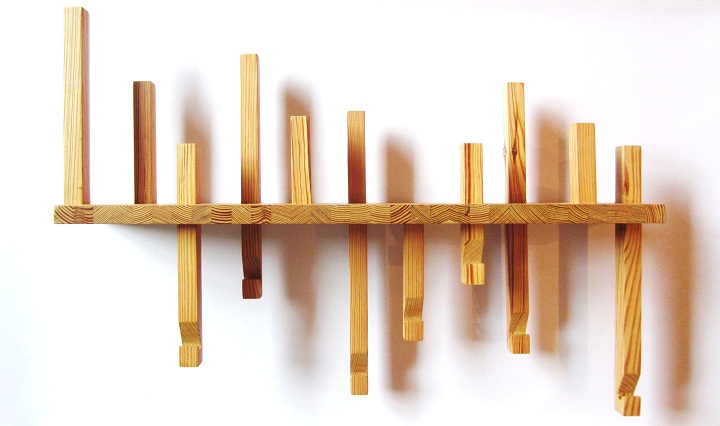 Coatroom cloak rack made of 96% recycled riga wood. Designers are Correia/Ragazzi Arquitectos of Vila Nova de Gaia
Wooden hangers at the top of the page is by Pedro Sottomayor.
For more information, visit the Remade in Portugal website.
6ªEdição do Remade in Portugal
Gallery at the EDP Foundation
Rua Ofélia Diogo da Costa n.º 45
Porto
Hours: Tuesday to Sunday – 12:00 to 19:00
Entrance Free