Pharmacy chic? Drug store kitsch? Either way, Restaurant Pharmacia is just what the doctor ordered. Sharing a building with Museu de Farmacia on Rua Marechal Saldanha in the Santa Catarina district of Lisbon, Pharmacia is sure to settle your hungry stomach and put a smile on your face.
--------------------------------------------------
--------------------------------------------------
Pharmacy interior designers went all out with eclectic pharmaceutical décor (but that's half the fun of coming to this restaurant). Old drug store cabinets along the walls hold vials, books and medicine boxes. Drinks come in measuring cups. Wine bottles rest is ice buckets made of first aid kits. An assortment of 1950's and '60's chairs mix and match with plates and dinnerware form the same era. Water comes to the table in bottles marked "H20".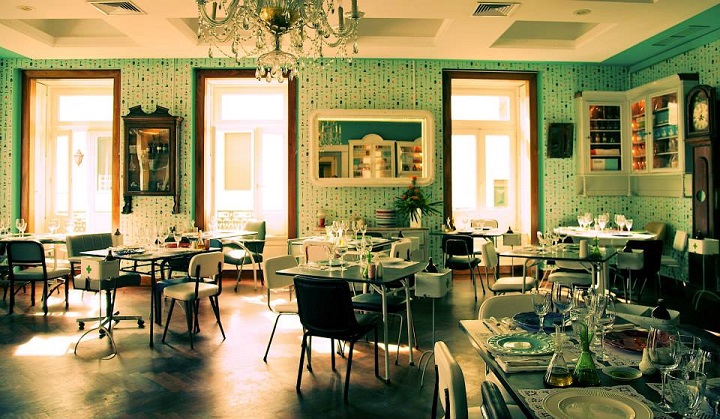 Outside, there is terrace seating, next to a large lawn, with beautiful views of the Tagus River and the 25 April bridge.
Many Portuguese favorites are on menu, with petiscos (Portuguese for "tapas") being the most popular. Dishes such as croquettes of duck and orange jam, scallop linguine, bacalhau, quail salad and shrimp and sweet potato, goat cheese and mint rolled up in eggplant, range in price from €8-14.
The "Surprise" tasting menu is guaranteed to please at €28. It changes regularly, but generally consists of a small soup (in a test tube), three petiscos, a fish dish, a meat dish and a dessert platter. Special menus are created for holidays and special events.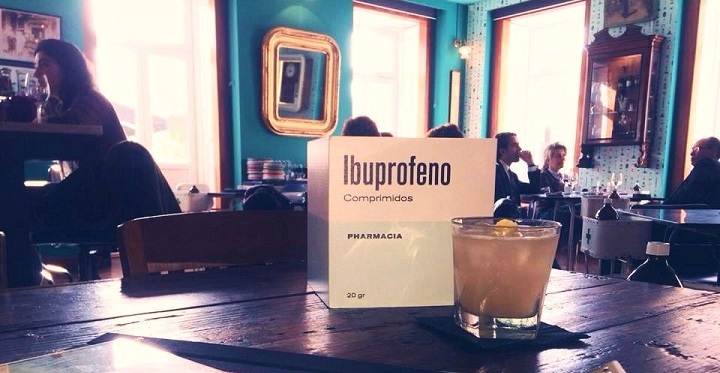 While you're in for a "check-up"….you should probably consider taking a cocktail prescription. The clever concoctions poke fun at pharmaceuticals, such as Ibuprofen (cachaça beirão and lemon juice), Morphine (pineapple with sparkling wine), and LSD (whiskey and ginja). And, most importantly in this research project, don't forget the Placebo (ginja and sparkling rose wine).
For more information, visit the Pharmacia Facebook page.
Restaurante Pharmacia
Rua Marechal Saldanha, 2
Santa Catarina district
Lisbon
Phone: +351 213 462 146
Email:  pharmacia.2011@gmail.com
Hours: Tuesday to Sunday – 13:00 to 01:00