Since 1990, Restaurante São Gabriel has maintained a solid reputation of serving gourmet international cuisine to the many residents and visitors in the Central Algarve. Recently, some subtle, and not-so-subtle, changes have been made to this gastronomic institution. Long time guests will be relieved to know that the superb staff lead by maître d' Delfim João and sommelier Victor d'Avo remain in place. Yet, the kitchen and menu have received a complete make-over with the introduction of popular and respected Portuguese chef Leonel Pereira.
--------------------------------------------------
--------------------------------------------------
São Gabriel is a gem of a restaurant in a traditional house placed in the middle of lush gardens, hidden from the busy Estrada da Vale do Lobo.  Walking up to the restaurant from the parking area, changes are already evident. A beautiful cascading water feature marks the entrance to a newly constructed and expansive terrace.  Inside, the quaint traditional interior remains intact, yet is upgraded and modernized with new décor and art.  A central fireplace adds a comfortable ambiance for the exquisite meal being prepared in the kitchen.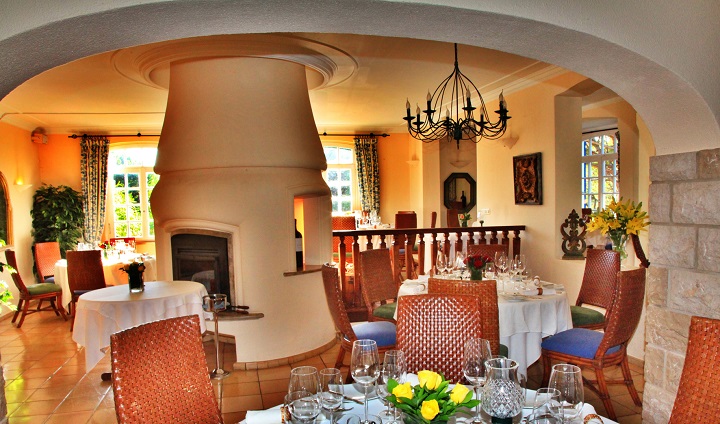 When asked to describe his cuisine in two words, Chef Pereira told us, "creative and contemporary."  Indeed, some traditional Portuguese foods, such as bacalhau (cod fish) and alfarroba (carob), can be found on the plate, but they are prepared with such innovation and technical precision that the tastes and presentations are truly unique.
A native Algarvian, Pereira has amassed considerable experience in national and international culinary circles.  He attended the Alain Ducasse Academy, Le Nôtre and the Institute of Culinary Arts, and perfected his skills in such luxury hotels as the Hotel Quinta do Lago (Orient Express), Niko in Paris, Cipriani in Venice, and the Alexandra Palace in Switzerland.  Pereira also supervised cuisine at the opening of every Pestana hotel in Brazil, as well as the Carlton Alvor.  Most recently, he was executive chef at the multi-award-winning Panorama restaurant at the Sheraton Lisbon.
Pereira was raised in the small Algarvian village of Martinlongo, not far from the border with Spain.  Memories from his childhood growing up in this region are key ingredients in his cuisine today.  Flavors from the fields such as flowers and poejo (pennyroyal), and tastes of the sea, such as clams and even phytoplankton, are featured in many of his dishes.
(Top left) Chef Leonel Pereira. (Top right) crisp dry river shrimp with sea cream. (Bottom) mini coronet of cod fish brandade.
Freshness dominates the menu.  Pereira refuses to use cream and will consider only a minute amount of butter.  Rather, fresh fish and seafood are bought at the oceanfront market in Sagres.  Pork is field-raised in Alentejo. Chicken and lamb from France, and Black Angus from Scotland are carefully selected.  Organic vegetables are delivered from Quinta Seis Marias, near Lagos in the western Algarve. With this approach, the true flavors of the fresh products are the focus of each dish.
The menu changes with the season, the availability of fresh ingredients and/or the inspiration of Pereira.  Highlights from a recent menu include:
■  Mini cornet of cod fish brandade and olives
■  Mini crisp of dry river shrimps with sea cream and red seaweed powder
■  Crayfish, endives, pork jelly with coriander and caviar powder
■  Scallops with sweetbreads with pear and pea purées
■  Fillets of red mullet tenderly pan fried, caramelized celery with orange and lemon with verbena sauce
■  Tenderloin of veal with sweet potatoes creamy, grilled BIO courgettes and lavender sauce
■  Coffee ice cream and alfarroba and orange crumble on dark chocolate.
■  Flavors of apple pie with lemonade jelly and sweet rice ice cream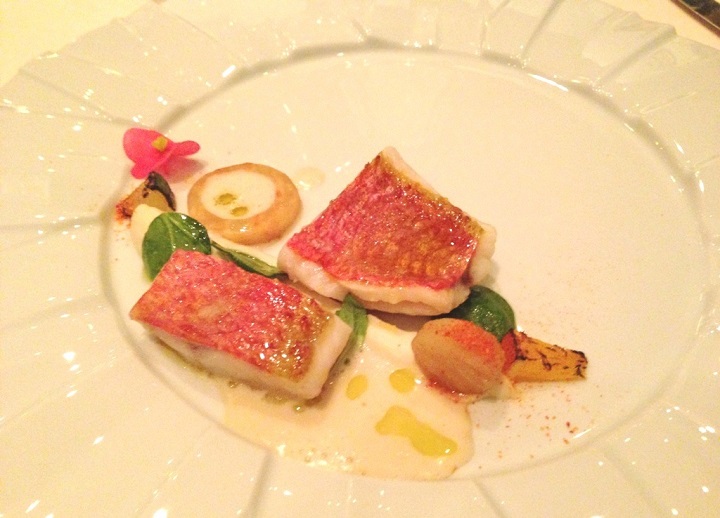 The wine menu is quite comprehensive, with desirable vintages from most wine producing regions of the world.  Yet, we recommend allowing Sommelier d'Avo to introduce, inform and delight you with his extensive knowledge of Portuguese wines.
For more information, visit the São Gabriel website.
Restaurante São Gabriel
Estrada Vale do Lobo
Quinta do Lago
8135 Almancil
Central Algarve
Phone: +351 289 394 521
Email: info@sao-gabriel.com
Hours:
Tuesday to Sunday – 19:00 to 22:30
Sunday Lunch – 12:30 to 14:00