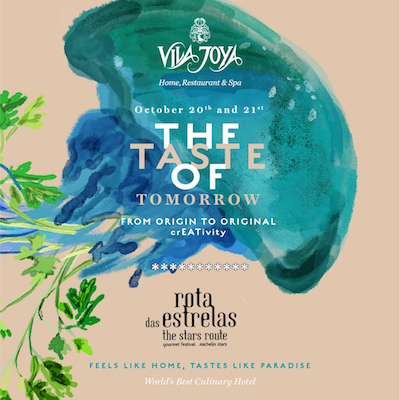 For ten years now, fans of fine dining in Portugal are treated to a series of gorgeous gastronomic events. Michelin star restaurants from Porto to the Algarve open their doors for themed two-day festivals where culinary technique is celebrated. This is the Rota das Estrelas (Star Route). And, the next stop in 2017 is at Vila Joya, the home of Two Michelin Star chef Dieter Koschina, on 20-21 October.
Dinner on 20 October is quite unique. It features the vegetarian Michelin star chef Paul Ivić from Tian restaurant in Vienna. According to Ivić, "My Passion is a highly creative cuisine, that tastes great and is a feast for the eyes. We will take you on a unique culinary journey of pleasure in 6, 8 or 10 courses, through the fascinating world of vegetarian and vegan dishes that will satisfy our exceptionally high standards of quality and are bound to cause a few surprises. "
On 21 October, the event called "10 Hands" features dishes by all five of Portugal's two Michelin star chefs:
Dieter Koschina | Vila Joya, Algarve
Hans Neuner | Ocean, Algarve
Benoît Sinthon | Il Gallo d'Oro, Funchal
José Avillez | Belcanto, Lisbon
Ricardo Costa | The Yeatman, Porto
Each will create their personal interpretation of "The Taste of Tomorrow," the theme for the Rota das Estrelas this year.
The degustation dinner is €220 per person. Wine pairing is €150 per person. Package includes a welcome cocktail, wine pairing, water, coffee and a midnight drink with the chefs. Additional drinks are paid separately.
For more information and to book reservations, visit the Vila Joya website..
Vila Joya
Estrada da Galé
8200-416 Albufeira
Algarve, Portugal
Phone: +351 289 591 795
Email: info@vilajoya.com