We know Portugal has a rich tradition of handcrafting beautiful and fragrant soaps. We also appreciate the country's heritage of producing artisanal beers. So it makes sense when we learn that the top companies in both these industries have joined together to create a unique product. Sabonete de Cerveja Sovina are soaps created by Saboaria e Perfumaria Confiança of Braga, made with Sovina Beer from Porto.
————————————————–
[ad name="Google Adsense Image Banner for Posts "]
————————————————–
Sovina uses artisanal methods to produce genuine beer made purely of water, malt, hops and yeast. Established in 1894, Saboaria e Perfumaria Confiança produces high-quality cosmetic products with unique designs and formulas. Together, they have developed an extraordinary product made of raw materials with the intrinsic qualities of beer for skin care.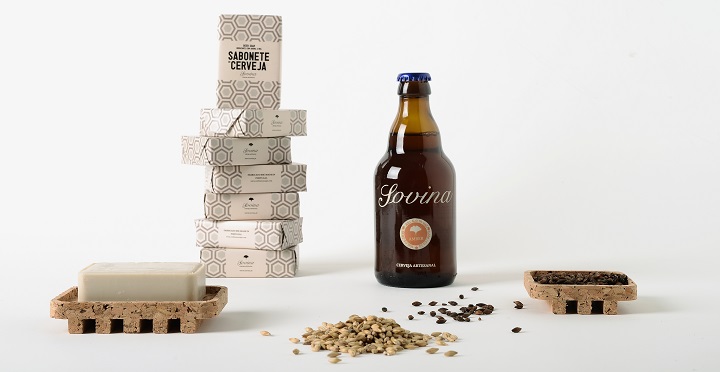 Sabonete de Cerveja Sovina Hidratante is a moisturizing soap made of amber beer and a scent of honey. The cereals, hops and yeast in this product contain protein, vitamin B and amino acids ideal for the health and welfare of skin and hair. The ingredients of beer also have anti-bacterial and anti-oxidant properties.
Sabonete de Cerveja Sovina Esfoliante is an exfoliating soap made with Sovina's popular India Pale Ale. It has an aroma of mint. The exfoliating particles in the soap come from the flowers of the hops. This soap cleanses and revitalizes skin with all natural ingredients.
All Sovina soaps are wrapped in beautiful linear-design paper and placed in elegant brown boxes developed by Supply Agency (the same company behind sophisticated Fine & Candy stationery).
Each soap is 100g and sells for €4.00. They are ideal gifts for men and women.
For more information and to purchase products, visit the Sovina website.
Sovina Cerveja Artesanal
Rua Manuel Pinto de Azevedo, 65
Armazém 4/5
Porto
Phone: +351 22 600 6936
Email:  info@cervejartesanal.com
Shop Hours: Monday to Friday – 10:00 to 13:00 and 14:30 to 19:00