Salpoente is a beautiful fusion of the best of traditional Portuguese tastes and flavors, prepared and served as chic, contemporary cuisine. Here, the treasured bacalhau (cod fish) is celebrated with a variety of innovative modern dishes by emerging chef Duarte Eira. The space itself is a former salt warehouse, transformed into a sophisticated cultural space for art, food and fun.  Salpoente is on the Canal de São Roque in Aveiro in central Portugal.
--------------------------------------------------
--------------------------------------------------
The owners of Salpoente have taken two former, nondescript salt warehouses and renovated then into a noble structure for fine dining. Still apparent and part of the character of the space are wooden beam supports and open A-frame roof. Tones of brown from the wooden floor, bar and lounge furniture are accented with dining chairs of raspberry and citrus. Clean white walls make an excellent backdrop for temporary art exhibitions.  And true to the "made in Portugal" philosophy of Salpoente, top Portuguese furniture, lighting and dinnerware brands such as Boca do Lobo, Delightfull, Glamm Fire and Vista Alegre pepper the space, adding to the rich décor.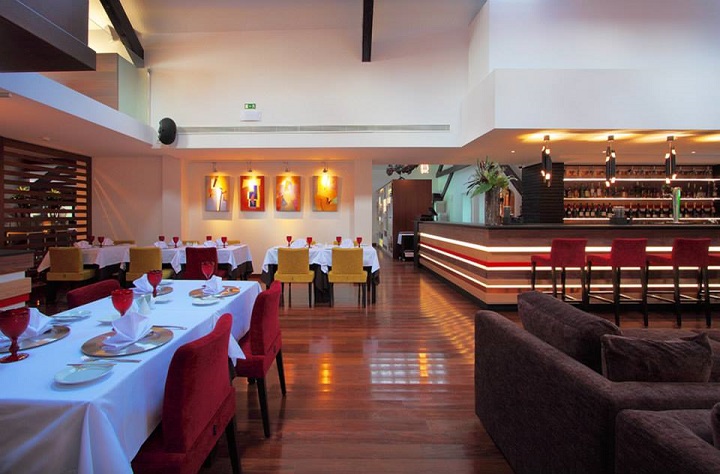 In the kitchen, Vila Real-native Eira creates innovative dishes, no doubt, with skills he picked up while passing through notable restaurants at Hotel Regua Douro, Hotel Aquae Flaviae, Casino-Hotel de Chaves, Hotel Monte Prado & Spa and Michelin star-awarded Casa da Calçada Relais & Chateu.  Eira's approaches his kitchen as a laboratory, experimenting and creating new interpretations of bacalhau and other favorite Portuguese flavors.
Some highlights from the current menu include:
■ Seared scallops with poppy seeds, potato foam and Avruga caviar
■ Tataki Salmon glazed with gel oysters, with saffron couscous
■ Bacalhau carpaccio, with local coastal shellfish, algae and air of "duck bullion" and germinated coriander
■ Confit of bacalhau fillet, prawns in garlic, creamy stew, peppers, cherry tomato and toast
■ Bacalhua baked with crust of bread and dried tomatoes, crushed potato and olive oil, carrots, mashed garlic, pepper coulis and foam
■ Stained loin, cold chickpea salad, olive oil foam, boiled egg at low temperature and olive powder
■ A kilo of beef ribs, accompanied with padrón peppers, tomato and mozzarella salad, and mix of potato chips.
■ Ovos Moles in cream with raspberries, toasted almonds, red berries and raspberry sorbet
■ Salpoente's version of blueberry cheesecake
■ Chocolate brownie and walnuts, vanilla cream and vanilla ice cream
To accompany the meal, Salpoente has curated a commendable list of Portuguese and international wines.
Salpoente is open for lunch and dinner. Learn more at the Salpoente website.
Salpoente
Canal de São Roque, 83
Aveiro
Central Portugal
Phone: +351 234 382 674
Mobile: +351 915 138 619
Email: reservas@salpoente.pt
Hours: Every day 12:30 to 15:00 and 19:30 to 22:30