Portuguese of all ages have fond memories of being taken to Santini's by their parents for ice cream during the warm summer months. In modern times, this delicious ice cream, offered in a range of exotic flavors, has often been called "the best ice cream in the world." But hold on to your ice cream spoons! Santini's has developed a new delightful sweet treat. They call it the Santini Bombon, and it's available at all Santini locations around Lisbon.
--------------------------------------------------
--------------------------------------------------
Santini Bombons are dark or milk chocolate bites filled with Santini ice cream. They come in raspberry, passion fruit, mocha and hazelnut.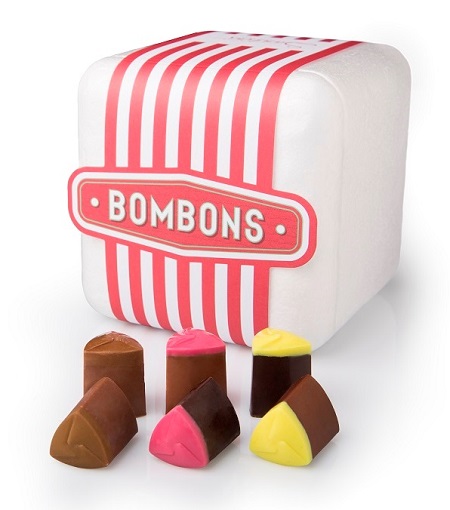 Santini Bombons have been in development for three years! The secret team of sweet technicians include pastry chef António Marques and savory chocolatier Francisco Siopa.
Eduardo Santini, the grandson of the founder and now responsible for the Santini brand, says that he has shifted the focus of the company away from creating new flavors, to developing new products. "We realized that there was a gap in the market and decided to create a chocolate bombon stuffed with Santini ice cream. Because ice cream and chocolate are seasonal opposites, we believe this product will be a good addition to our stores, allowing guests to enjoy the ice cream products year round."
Of course you can purchase the bombons in the store and consume them on the spot! Or, you can buy them in bulk and take them home to loved ones (or consume them on the couch!). Each bombon is 80 cents. A box of 16 is €9.50. And, a box of 32 is €19.00
For more information, visit the Santini website.
Santini Cascais
Av. Valbom, 28F, Cascais
Hours: Fri & Sat – 11:30 to 23:00, Sun – 11:30 to 19:00, Closed Mon to Thur
Santini Chiado
Rua do Carmo 9, Lisbon
Hours: Everyday – 11:00 to 24:00
Santini S. João do Estoril
Rua Nova da Estação, 5, S. João do Estoril
Summer months
Santini Carcavelos
Estrada da Torre, Carcavelos
Hours: Sun to Thursday – 11: to 20:00, Friday & Saturday – 11:00 to 24:00