On first appearance, Porto is a town steeped in Portuguese history.  Yet, Porto is also home to a world-class museum of contemporary art. Opened in 1999, the Serralves Museum of Contemporary Art displays cutting-edge international art in a striking minimalist building by Pritzker Prize-winning architect Alvaro Siza Vieira.  Sharp angles and open spaces provide an exquisite space for showcasing the museum's collection.
(at the top) Serralves Villa in the Gardens of the museum grounds.
--------------------------------------------------
--------------------------------------------------
The collection spans the time from the 1960s to the present.  The "symbolic start-date" for the collection is 1968, which refers to the socio-cultural events of the period, and is representative of the beginning of the contemporary art movement.  From pop art and minimalism, to use of film and photography, the museum's aim is to showcase contemporary concepts in various media and styles.
Adjacent to the museum is 18 hectares of beautiful formal gardens designed by French architect Jacques Gréber, who specializes in urban landscapes.  Ponds and fountains accentuate the grounds.  And, sculptures blend beautifully with the surroundings.  Be sure to see (what must be the world's largest) garden shovel by Claes Oldenburg  and Coosje van Bruggen.
On the other end of the garden is yet another extension of the museum.  Built in 1925, the Serralves Villa is a fine example of art deco architecture.  It was commissioned by the second Count of Vizela, Carlos Alberto Cabral as a private residence.  It is now owned by Serralves Foundation and is utilized as the center for administration, as well as an annex to the museum for temporary exhibitions.
The museum has an ever-changing schedule of temporary exhibitions, as well as performance arts festivals.
For more information on exhibitions and the museum, visit the Serralves website.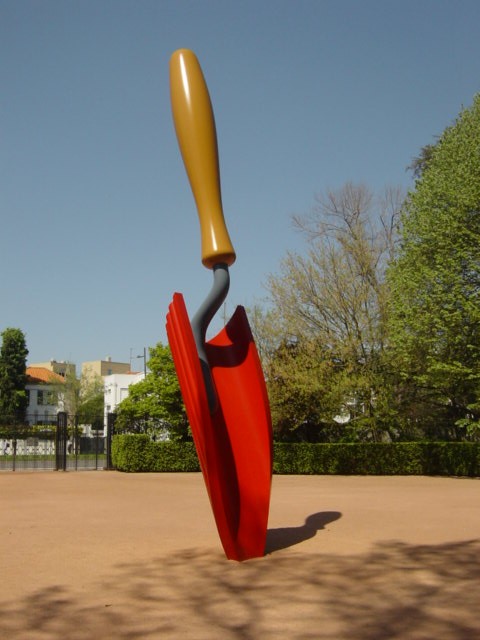 Serralves Museum of Contemporary Art
Rua Dom João de Castro,210
4150-417 Porto
Phones:
Telephone:  +351 226 156 500
Fax:  +351 226 156 533
Ticket Reservations:  +351 226 156 584
Guided Tour Scheduling:  +351 226 156 546    
Hours:
April to September
Monday to Friday: 10:00 to 19:00
Saturday, Sunday and Public Holidays: 10:00 to 20:00
October to March
Monday to Friday: 10:00 to 18:00
Saturday, Sunday and Holidays: 10:00 to 19:00
Closed Mondays, and on December 25 and January 1
Prices: 
Museum and Park – €10.00
Park – € 5.00
Free: Under 12 years, Freinds of Serralves, Higher Education Students