Hot club! Central location. Silk Club. Its panoramic views, its sophisticated and modern lux décor, and its stringent door policy make it one of the most desirable places currently on the nightlife scene in Portugal's capital city.
--------------------------------------------------
--------------------------------------------------
Silk integrates the architecture and design of its interiors with the ambiance that Lisbon transmits at night.  It accomplishes this by its spectacular location.  Silk is on the upper floors of the Espaço Chiado, a commercial building adjacent to the legendary Ferdinand Wall. From here, breathtaking 270º views of the city can be experienced with a drink in hand on the large open-air terrace.
To access the club, hipsters grab one of two interior panoramic elevators to the six floor, arriving at the main hall, cloakroom and bathrooms.  A main stairway leads up to the seventh floor rooftop club.  Alternatively, take the private elevator!
Don't expect to just show up and be allowed in to see the view!  The club maintains a guest list entrance policy.  Ideally, you will know the correct people to contact to be put on the list.  Or, give the club a call or send an email through the Silk Club website to check availability for the evening.
Stop by the restaurant for fresh and innovative Japanese cuisine. Delight in Mimasu or sashimi. Share a plate of sushi.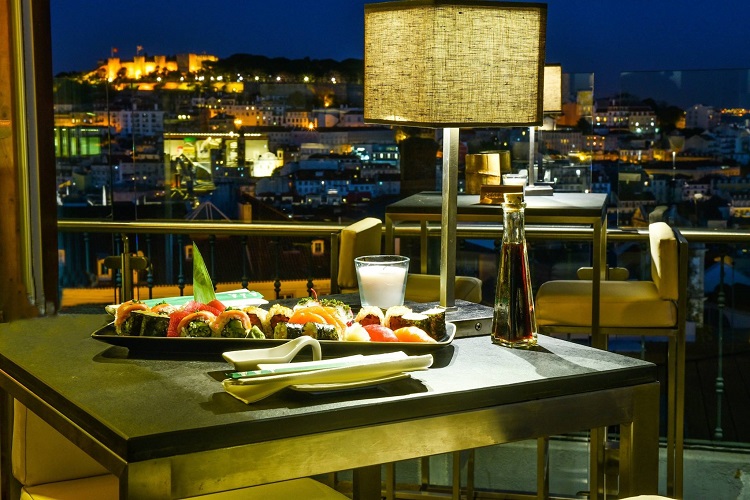 More information, visit the Silk Club Website.
Silk Club
Rua da Misericórdia, No. 14
Lisbon
Mobile: +351 911 937 740
Reservations:  contact@silk-club.com
Hours: 
Tuesday and Wednesday – 19:00 to 01:00
Thursday – 19:00 to 01:30
Friday and Saturday – 19:00 to 04:00