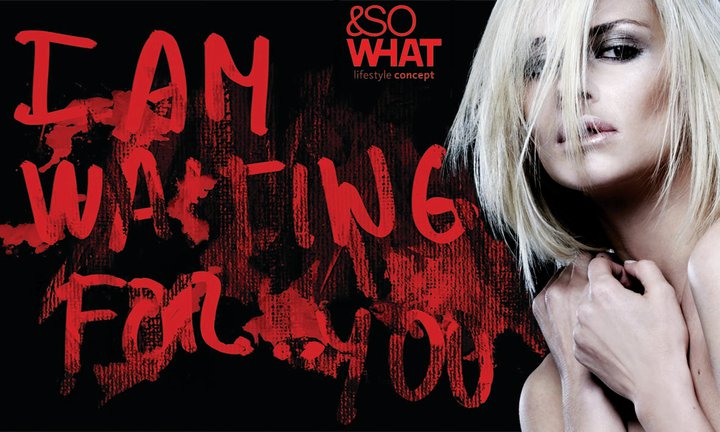 We are as we are; you are as you are.  This is the mantra for &SoWhat, a new concept in beauty salons.  Hot couple of the moment, French hairstylist Yohann Peres and Portuguese model Flor, create the hottest beauty spot of the moment by bring together all services related to fashion and image under one roof.     
Step into &SoWhat, in Lisbon's trendy Chiado district, and you have the opportunity to change your entire image, not just your hair.  In this two-level space, you can get an entire image makeover from hair and nails, to make-up and fashion.  You can even check your email while sipping a cup of tea.  Experts in fashion and style have been recruited to "tailor-make" an image that is yours alone.     
Hair and nail services are located on the first floor. Start your transformation here.  The décor is very contemporary with large dramatic graphics in red and black adorning the walls.  Sit comfortably in modern design furnishings while hair professionals get busy creating a modern cut.
Upstairs, you'll find the make-up studio.  Make-up artists with experience in designer runways and fashion photography advise on techniques appropriate for your features, and the season.  Also on this level is the fashion boutique.  There's no better way to transform your image than to wear statement-making clothes.  Let a resident fashion stylist suggest new looks from some of Portugal's hottest designers, including Nuno Gama, Katty Xiomara, Luis Buchinho, Diogo Miranda, Dino Alves, Pedro Pedro, Ricardo Preto, Storytailors, and Lidija Kolovrat.  The boutique also offers accessories, such as purses, belts, and sunglasses, to complement your new look. 
To enhance your experience, &SoWhat also offers a wireless zone and a selection of teas and coffees. 
&SoWhat?  We think the question is &WhyNot?  Time for a complete make-over!
Learn more at the &SoWhat blog.


& So What
Rua Nova da Trindade nº4
Chiado
1200-302 Lisboa
 
Phone:  +351 213 461 355
Email:  andsowhatlisboa@gmail.com




[ad name="Google Adsense Image Banner for Posts "]