Surf at Night is back for 2014!  This celebration of Summer on the central coast of  Portugal is where surfing and music collide in a giant five-day (and night) beach party.  Grab your board. Grab your tent. Grab your sunscreen and get to the Vila do Surf (Cortegaça Beach in Ovar), 13-17 August.
————————————————–
[ad name="Google Adsense Image Banner for Posts "]
————————————————–
The Surf at Night festival is a full week of celebrating life through surfing and music. Surfing related activities involve long boards, bodyboards, stand up paddle and, of course, night surfing. There's also adapted surf, skate boarding, shaping workshops, fitness and massage.  (Click here for a Map of Vila do Surf.)
Every night, national and international musical artists keep the festival jumping with live performances and spinning tracks.
Wednesday, 13 August
DJ A.M.CUK ■ DILLAZ ■ DJ SLIMCUTZ & ACE ■ EXPEÃO ■ DJ D-ONE ■ DOGZ UNITED
Thursday, 14 August
NATIRUTS ■ FRANKIE CHAVEZ ■ JOÃO DINIS ■ DISCA RISCOS HOSTED BY JEPE
Friday, 15 August
D.A.M.A. ■ TRIGGAFINGA INTL ■ BEZEGOL RUDE BWOY BANDA ■ ONTEM SOUND (SELECTA LARANJA) ■ BIG BADDA BOOM SOUND (SELECTA GUI) ■ MIGDRUM SOBASS
Saturday, 16 August
SURF COLOR PARTY, THEN… ■ FUNKYOU2 ■ JIMMY P & THE ROCKBOYZ ■ KARETUS ■ GANG MACHADO ■ MEIO IRMÃO ■ MENINOS DA VADIAGEM ■ THE PETER BROTHERS
Sunday, 17 August
NOVA ERA SUNSET CLOSING PARTY ■ SURF AT NIGHT OFFICIAL DJS-ALOHA SOUND SYSTEM ■ DJ EDGAR COUTO ■ GOLDEN HAWK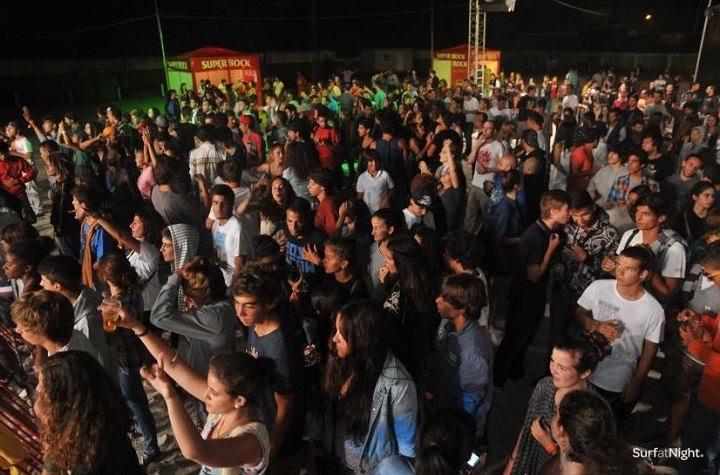 Part of living a healthy surf lifestyle is participating in projects that benefit the community. As in previous years, Surf at Night focuses on the environment. That's why during the week, use of bicycles, skateboards and motorized electric vehicles are encouraged.
Social responsibility is promoted as well, "the sixth edition of the Surf at Night supports the needy through the Surf for Food project, which we have been implementing over the year and is already reflected in the collection of more than three tons of food and more than 30 actions performed throughout the country, "says the organization's Nuno Amaro.
For more information, visit the Surf at Night website.
Praia de Cortegaca
(45 kilometers south of Porto)
3885-204 Ovar
Phone: +351 967 816 402
Email: info@surfatnight.org
Tickets:
€10.00 – Per day for 13 and 15 August
€12.50 – Per day for 14 and 16 August
€40.00 – Full event pass without camping
€45.00 – Full event pass with camping
Click here to buy tickets at Last2Ticket