There's a new sushi restaurant in Lisbon. Yes, another one! But this one is as sexy and sophisticated in its ambiance as it is in its innovative approach to pure Japanese cuisine.
--------------------------------------------------
--------------------------------------------------
Sushi Café Avenida is just a few steps off of Avenida da Republica on Rua Barata Salgueiro. It is perfectly positioned to lure Lisbon fashionistas from the designer shops and visitors from the nearby hotels.
The design by renowned Atelier de Arquitectura Saraiva & Associadosas is quite striking. Entrance to the restaurant is through the main building atrium. Inside, the space is designed into distinct "zones". At the front is a reception area and lounge. This spot is great for grabbing drinks after work. Beyond is a "corridor" that houses various sushi bars. Here, guests can grab a quick meal while keeping an eye on the sushi chef.
A few steps further, undulating horizontal lines entice you into the main dining area. Lights behind the wave-like slats enhance the sense of movement. The glowing colors change, providing various ambient moods. This free-flowing design embraces the main dining area, creating an environment that is sophisticated, cosmopolitan and tres-chic!
But really, you came here to eat, right? No problem, the menu is as diverse and creative as the décor. This is where pure traditional Japanese meets molecular cuisine. Expect surprises. Imagine Wagyu Satay, cubes of Kobe-style beef with almond and coconut mousse; or Wagyu Carpaccio, which is thinly cut raw beef dusted with a snow of foie gras and chocolate. The Mauzer Maki is made of braised butterfish with shards of caramel and almond, red wine caviar and teriyaki gel. Black skin cod is served with sesame sauce in Gindara Goma.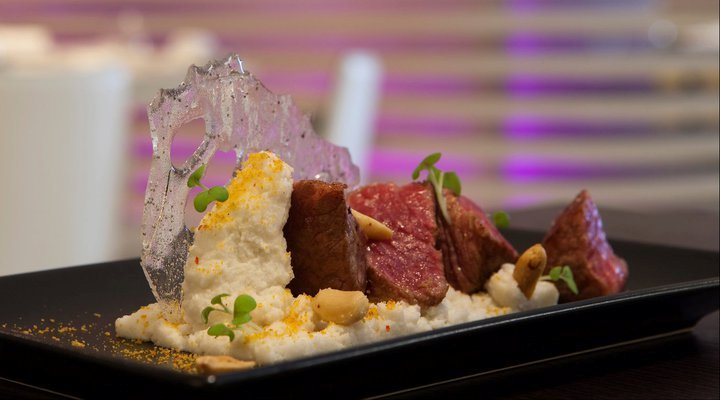 Of course, for those who like their Japanese simple, the menu also includes traditional miso soup, sashimi and popular sushi like the California roll.
For dessert, you have to try the lemon ice cream in tempura, with pear crumble and honey comb.
For more information, visit the Sushi Café website.
Sushi Café Avenida
Rua Barata Salgueiro, 28
1250-044 Lisbon
Phone: +351 211 928 158
Mobile: +351 914 859 526
Eamil: sushicafe.facebook@gmail.com
Hours:
Monday through Thursday – 11:00 to 16:00 and 19:00 to 01:00
Friday and Saturday – 11:00 to 16:00 and 19:00 to 02:00
Additional Locations:
Sushi Café Amoreiras – Amoreiras Shopping, Loja 1016/20, Av. Eng. Duarte Pacheco, Lisbon
Sushi Corner – Centro Colombo, Loja Q2.01, Piso 2, Av. Lusiada, Lisbon