It's hard to find a place that is cool and trendy, with innovative cuisine and presentation, while at the same time very laid-back, casual with substantial, home-style food. Well, we think we've found it. In Lisbon, Taberna Moderna on Rua dos Bacalhoeiros (between Baixa and Alfama) is that place that expertly straddles hip and fashionable, with relaxed and delicious.
--------------------------------------------------
--------------------------------------------------
The interior design of Taberna Moderna is old Portuguese tavern meets modern design esthetic. Wood floors and wood-feature walls conjure memories of the past, while large mirrors and floor to ceiling windows reflect a sense of modern openness. Hanging aluminum lamps emit a bit of industrial chic. Accents in the décor are provided by the dining chairs themselves. Each one is individual, with a style and a color chosen from past decades and eras.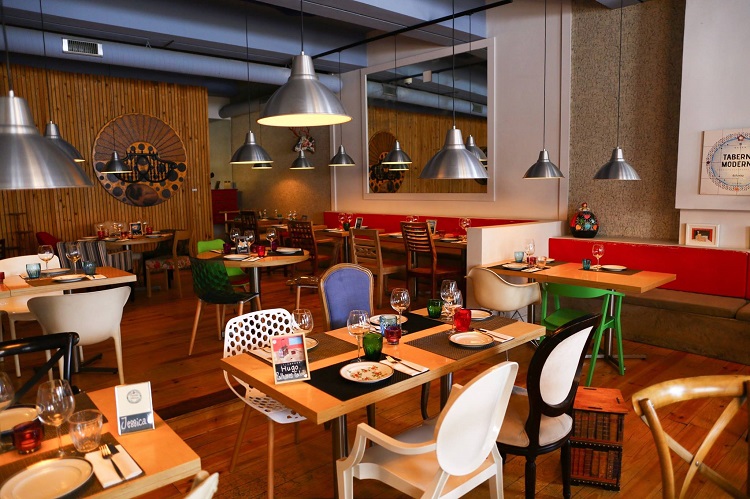 Meals at Taberna Moderna are meant to be shared. Dishes are served in healthy-sized portions in what some might consider home-style platters or overgrown tapas. Come with friends and come hungry! There's a lot of food to go around.
The cuisine reflects the Spanish roots of the owner/manager Luis Carballo, as well as the Portuguese training of Chef Alexandre São Miguel. The result is a unique fusion of Galicia and Alentejo ingredients and flavors. Some highlights from the current menu include:
■ Scallop Salad with Chévre Cheese, and Sherry Vinaigrette and Honey
■ Tataki Braised Tuna with Sesame Seeds 
■ Mediterranean Style Rice with Cuttlefish and Aioli
■ Tender Octopus Fillets with Shrimp, Asparagus and Black Rice
■ Mediterranean Style Rise with Rabbit, Spicy Chorizo and Black Olives
■ Cod Steaks with Spinach, and Toasted Cornbread with Dried Figs
■ Braised Duck Magret with Raspberry Sauce
■ sliced Lamb with Herbs and Semolina Pasta
Do not….we repeat….DO NOT miss out on the Fried Milk for dessert.  A wonderful unique sweet experience, indeed.
Prices range from €9 to €28 per dish.
In the late evening, the back corner of Taberna Moderna shifts personalities to become Lisbonita, a Gin Bar. Over 60 types of gin are featured. Different shapes of glasses and even various types of tonics are offered depending on whether you order a classic gin, or one  infused with herbs, spices, citrus, fruits or flowers.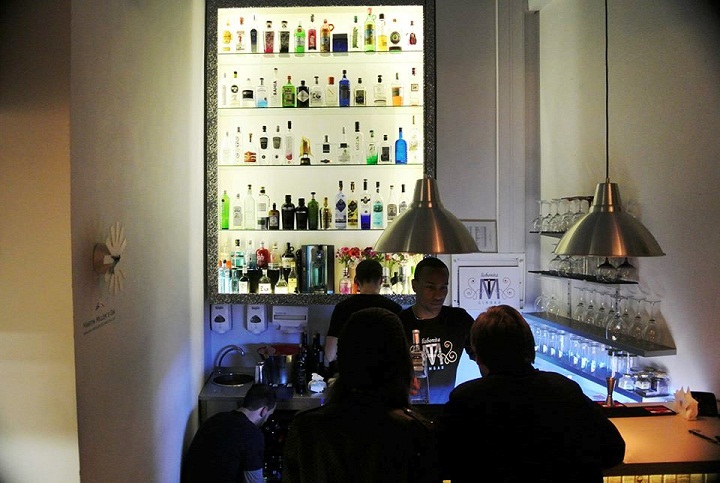 For more information, visit Taberna Moderna Facebook page.
Taberna Moderna
Rua dos Bacalhoeiros, 18 A
Lisbon
Phone: +351 218 865 039
Email: reservas@tabernamoderna.com
Hours: Monday to Saturday – 18:00 to 02:00