Creative and innovative Portuguese product designer Ana João is at it again. She has designed lamps resembling peacocks, marigolds and black widow spiders. She has created whimsical stools in the shape of raspberries. Already on the drawing board are contemporary design, avian-inspired teapots. But first, very busy Ana João launches a jewelry collection that is as endearing as it is original: Teddies pendants and necklaces.
————————————————–
[ad name="Google Adsense Image Banner for Posts "]
————————————————–
For Ana João, this project is quite personal. "Teddies are very special to me because they're designed for my mother," admits the Matosinhos-native and graduate of the Escola Superior de Artes & Design (ESAD).
Utilizing Ana João's designs, traditional goldsmiths in the north of Portugal handcraft each piece in the collection. Teddies are made of porcelain and, at the moment, are available in white, pink, black and cobalt. A Swarovsky crystal is embedded into the belly of each Teddie. Silver and gold-plated silver chains add elegance, beauty and quality to the completed necklace.
No doubt Teddies look great on Ana João's mother. Yet, we are confident, Teddies are fun, cool and sophisticated fashion accessories for young girls, teens, women and grandmothers alike.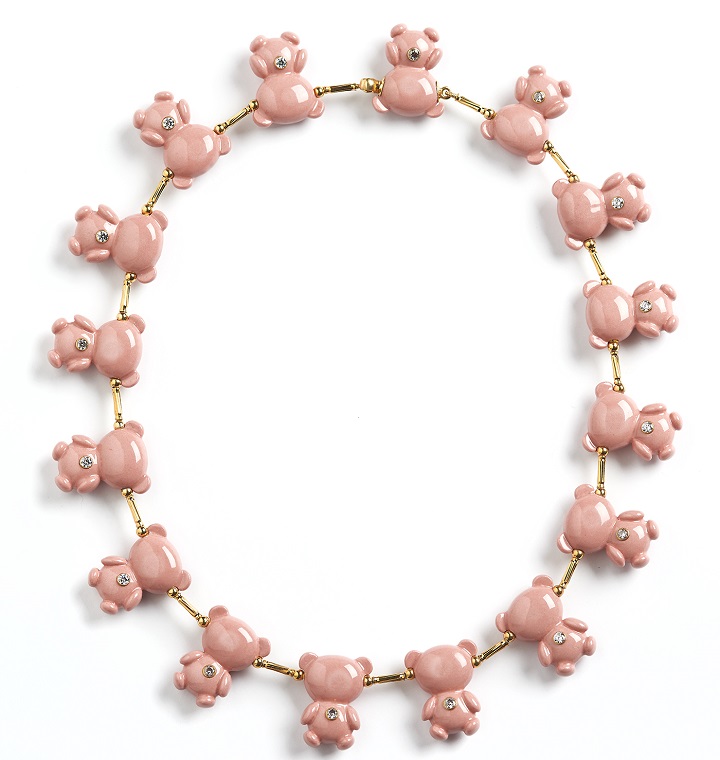 Prices for Teddies start at €41.00 for a single pendant, and raise to €330 for a full necklace of 16 teddies. Ana João can customize pieces at buyers' request. Orders are taken online at the Ana João Jewelry website.
To see more creative products by the designer, visit ByAnaJoão website.
Ana João Jewelry
Email:  anajoaojewelry@gmail.com