Cool, boutique, design hotels are springing up all over Portugal. In this case, a "beautique hotel" has sprouted at Praça da Figueira ("fig tree"), in the Baixa district of Lisbon and grown eight stories high. The Beautique Hotel Figueira is a four star hotel offering guests a unique ambiance, as well as a comfortable and restful experience.
--------------------------------------------------
--------------------------------------------------
The fig tree figures prominently in the design of the Figueira. The fig tree rises up inside becoming the "soul" of the hotel.
Superstar interior designer Nini Andrade e Silva is the creative mind behind realizing the extraordinary concept of a hotel springing from a fig tree. Andrade e Silva is no stranger to unique hotel design having left her mark on the Vine Hotel in Madeira (among many other award-winning commercial structures). For this project, she literally shaped the walls and notched out niches, producing an organic effect resembling fig tree trunks, branches and leaves. The green and brown color scheme completes the forest effect.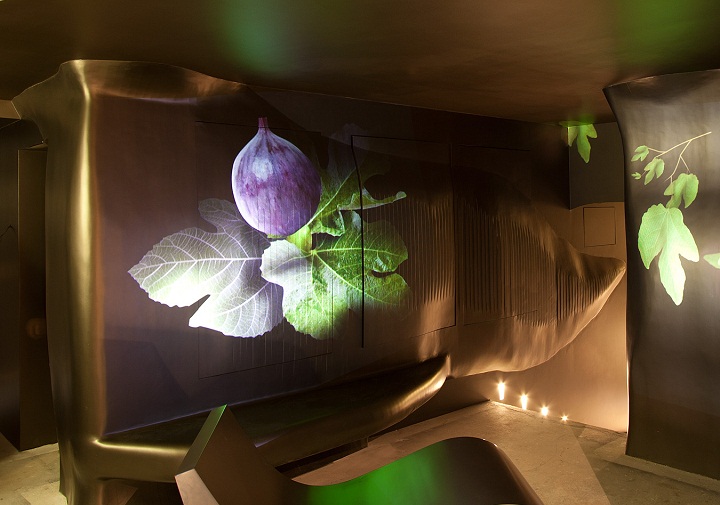 There are 50 rooms at the Figueira. They are somewhat mid-century modern in inspiration, with a nod to the earthiness of the 1970's yet finished in pure 21st century comfort. Of course, the image of the fig features prominently in the design. Standard amenities include iPod docking station, trouser press, wifi access, coffee and tea service, mini-bar, and comfy bathrobe and slippers.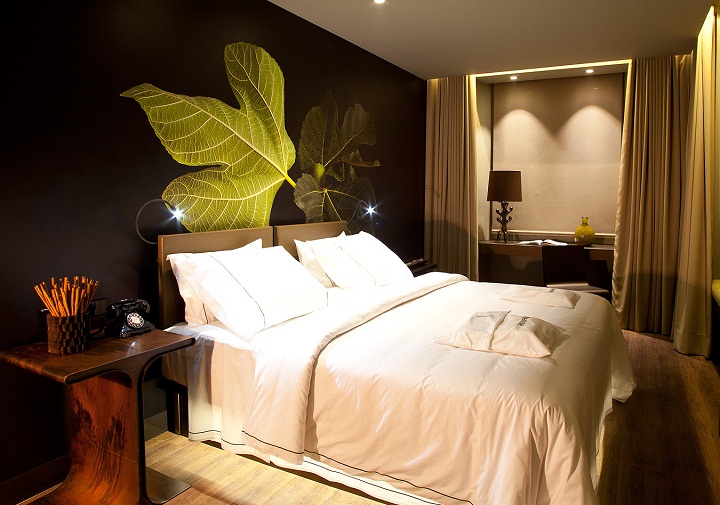 For gastronomy, Figueria features the cuisine of beloved Portuguese chef Olivier da Costa in the restaurant Honra by Olivier. Olivier has mastered all forms of cuisine, from Mediterranean-inspired at Avenida and casual food at Guilty!, to Japanese fusion at Yakuza and healthy cuisine at Longevity. Here, the menu is pure Portuguese, offering the true taste of this beautiful country.
The hotel also offers a rooftop spa. With fitness room, sauna, Turkish bath, two treatment rooms and outstanding views of Lisbon, the Figueira Spa is a truly peaceful retreat in the heart of the city.
For more information and to make reservations, visit The Beautique Hotel Figueira website.
The Beautique Hotel Figueira
Praça da Figueira, 16
1100-241 Lisbon
Phone: +351 210 492 940
Fax: +351 210 492 941
Email: reservas@tbhfigueira.com