Carlos Lopes Bras calls it The Best Chocolate Cake in the World.  Hmmm, at Portugal Confidential we like to think we know a lot about what is "the best"…and especially with regard to chocolate!  We think Bras' statement seems quite bold.  So, we went to check it out….
————————————————–
[ad name="Google Adsense Image Banner for Posts "]
————————————————–
Bras introduced his cake over 20 years ago as just another dessert item in his restaurant in Campo de Ourique in Lisbon. When his guests asked if the cake was good, Bras replied, "it's the best chocolate cake in the world!"  Apparently, they thought so too, as they returned and returned and returned to order more chocolate cake.  So, in 2002, Bras opened his first shop in Ourique dedicated to selling the cake.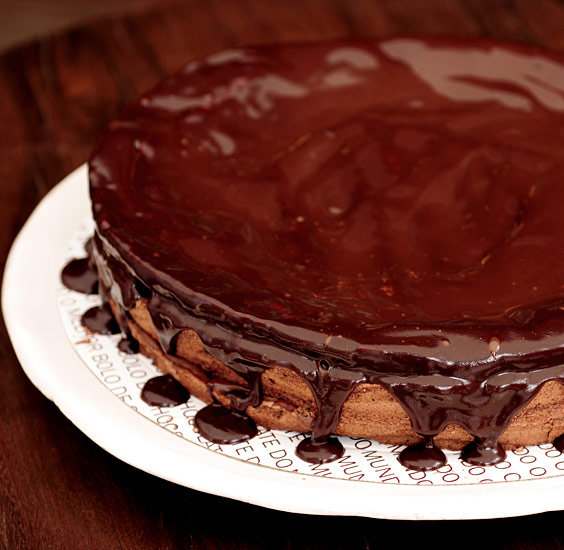 In Portuguese, it is O Melhor Bolo de Chocolate do Mundo.  And, this title has become a brand unto itself.  In fact, it is now sold in specially designated locations throughout Portugal and Brazil.  There are also shops in Madrid and New York City.
So what makes this cake the best?  Try three layers of crispy meringue, each separated by oozing, rich chocolate mousse, and covered in deep delicious chocolate glaze.  Yikes!  It is like a velvety smooth chocolate explosion in your mouth, with just enough crispy meringue to give the ecstasy some texture.  There is no flour or baking powder used.  The cakes come in two styles, traditional chocolate with 53% cocoa, and dark semi-sweet with 70% cocoa!  And, these cakes are certified kosher too!
If one slice just isn't enough….order a whole cake.  Purchase the cake for special events…or for your own indulgence.  Cakes come in two sizes:  small, with eight slices; and large, with 14 slices.  A thermal pack has been developed to keep the cake fresh until you get it to your feast.
Our decision?  Five Yums!  It's the best chocolate cake we've tasted….so far!
For more information, visit the O Melhor Bolo de Chocolate do Mundo website.


LISBOA (Original Shop)
(Campo de Ourique)
Rua Coelho da Rocha, 99
1350-076 Lisboa
geral@cozinhomania.com
Phone:  +351 213 965 372
ALENQUER
Madalena Santos
Phone:  +351 263 711 287
ALMANCIL
ICON, Interior Design & Gourmet
Rua do Comércio, Edifício Palma – Loja B
Phone:  +351 289 393 656
AVENIDA DA ROMA (Lisbon)
D.O.P. –  Delicias de Origem Portuguesa
C. Comercial Acqua Roma, Loja 21
Phone:  +351 217 958 368
AVEIRO
Loja do Chá
Rua Dr. Orlando de Oliveira 7
Phone:  +351 234 421 052
BATALHA & POUSOS
Pastelaria Panetto
Phone:  +351 244 768 652
Pastelaria Panetto
Phone:  +351 244 801 346
CAMPO PEQUENO
Café au Chocolat
Campo Pequeno Shopping
Phone:  +351 217 961 035
CASCAIS
Mercearia da Vila
Rua Visconde da Luz 12A
Phone:  +351 214 835 481
CHIADO (Lisbon)
Flower Power Food
Calçada do Combro nº 2
Phone:  +351 213 422 381
EXPO/PARQUE DAS NAÇÕES (Lisbon)
Gelataria Emanha
Rua Ilha dos Amores, Lote 4.08.01 E, Porta P
Phone:  +351 218 936 060
FIGUEIRA DA FOZ
Gourmet em Casa
Phone:  +351 233 430 295
LINHÓ – SINTRA
Pátio da Pi
Rua dos Ourives 2
Phone:  +351 219 242 357
MADRID (Spain)
Isabel Ruiz Morales
Alcal, 89
Phone:  +34 634 500 986
MATOSINHOS
Confeitaria Primavera
Rua Godinho 510
Phone:  +351 229 380 307
PORTO (Foz)
Augusto Leite
R Passeio Alegre 924
Phone:  +351 226 183 424
SACAVÉM
Paula Santos
Phone:  +351 937 019 383
SETÚBAL
Kitsch&Chic
Estrada de Palmela, 32 B
Phone:  +351 964 014 166
TELHEIRAS (Lisbon)
Dom Brigadeiro
Rua Prof. Eduardo A Coelho 3, Loja 1j
Phone +351 217 578 039
VILAMOURA
Boutique Pão & Pão
Av. Tivoli, Edf. Moura Praia, Loja13
Phone:  +351 289 313 524