Joe Berardo is one of Portugal's most prolific collectors of fine art. His Berardo Collection Museum, exhibits a mere fraction of the massive portfolio, in addition to hosting numerous temporary exhibitions from around the world. Yet, finally, more works from Berardo's private collection are on display in an exhibition curated by Berardo himself. The Collector's Eye runs through 13 September 2015.
--------------------------------------------------
--------------------------------------------------
Many of the works in this show have never been exhibited publically. Indeed, many of the works may be less well known, but still they strike a particular emotion with Berardo, or may just be some his favorite pieces.  Of particular interest is a very large backdrop painted by Marc Chagall for Mozart's Magic Flute.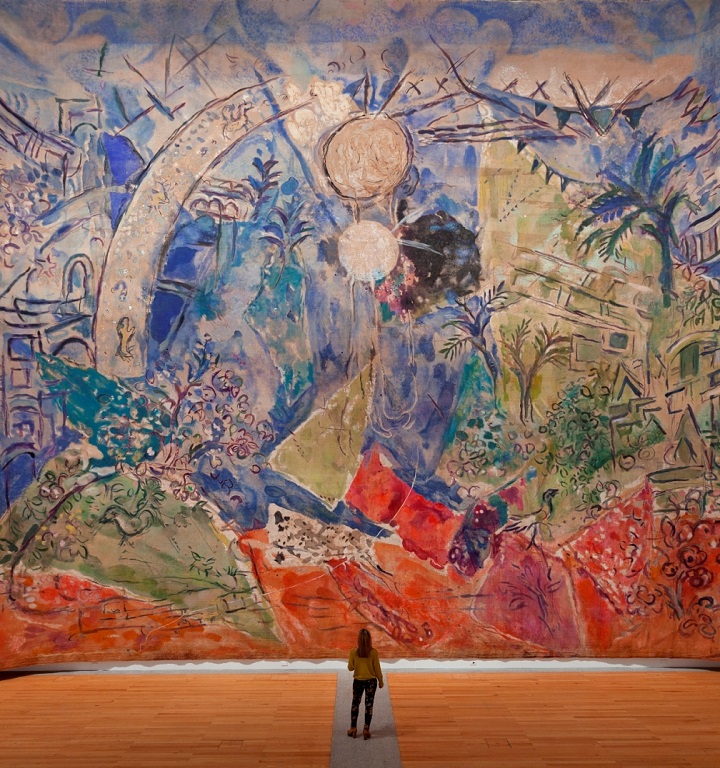 (above) Marc Chagall, Pano de Cena para A Flauta Mágica de Mozart, 1965, 1300 x 2350 cm. Photo: David Rato
Artists represented in the exhibition include:
Georg Baselitz ■ Jean-Michel Basquiat ■ Jason Brooks ■ Nelson Cardoso ■ Rui Chafes ■ Marc Chagall ■ Francesco Clemente ■ Enzo Cucchi ■ John De Andrea ■ Eric Fischl ■ Fernanda Fragateiro ■ Gilvert & George ■ Walter Goldfarb ■ Antony Gormley ■ Marcus Harvey ■ Nicky Hoberman ■ Jörg Immendorf ■ Peter Klasen ■ Pierre Klossowski ■ Roy Liechtenstein ■ Michael Craig Martin ■ Jacques Monory ■ Sarah Morris ■ Mimmo Paladino ■ A. R. Penck ■ Marc Quinn ■ Pedro Cabrita Reis ■ James Rielly ■ David Salle ■ Rui Sanches ■ Julian Schnabel ■ George Segal ■ Frank Stella
For more information, visit the Berardo Collection Museum website.
Museu Colecção Berardo
Praça do Império
1449-003 Lisbon
Phone: +351 213 612 878
Email: museuberardo@museuberardo.pt
Exhibition Hours: Tuesday to Sunday – 10:00 to 19:00
Entrance is free