The Lumiares is a de-light-ful five star boutique hotel in Lisbon's popular Bairro Alto neighborhood. It is a Bomporto brand hotel, created to be the complete opposite of a global corporate hotel. Located at the top of the iconic Bairro Alto funicular tramway, in a former 17th century palace, The Lumiares is a stunning combination of design, heritage, character, style and light.
--------------------------------------------------
--------------------------------------------------
From the moment you step through the glass sliding doors and onto the black and white floors, a subtle design theme emerges. From the floors to the modern Portuguese tiles that adorn the bathrooms, the artisan rugs that lie perfectly at the foot of the bed, and the unique cube chandelier designed for the grand staircase, all are inspired by the authentic cobbled streets that crisscross the Bairro Alto.
The 53 spacious and beautifully-appointed apartments (in studio, one-bedroom, two-bedroom, loft and penthouse formats) are contemporary in design with wooden-style floors, modern geometric Portuguese tiles in the bathrooms, high ceilings and furniture designed in Porto. It is refreshing that this Lisbon hotel gives priority to local talent and local artisans. Bathroom amenities are by Claus Porto, the luxury Portuguese soap maker, and a delicious local white wine is complimentary and chilled in the minibar.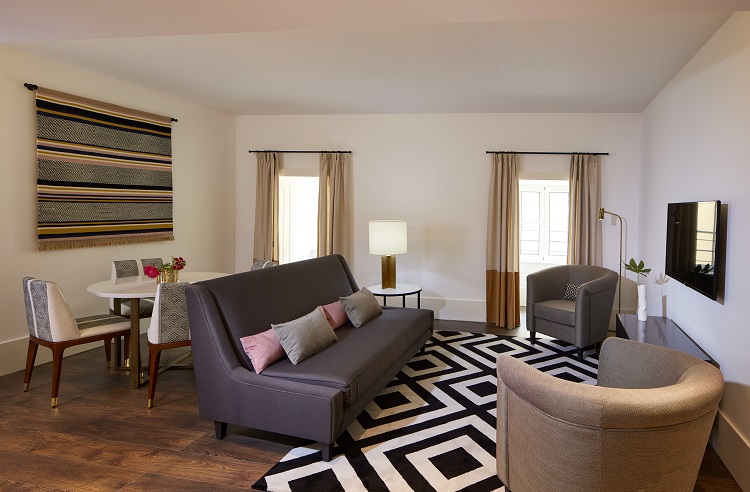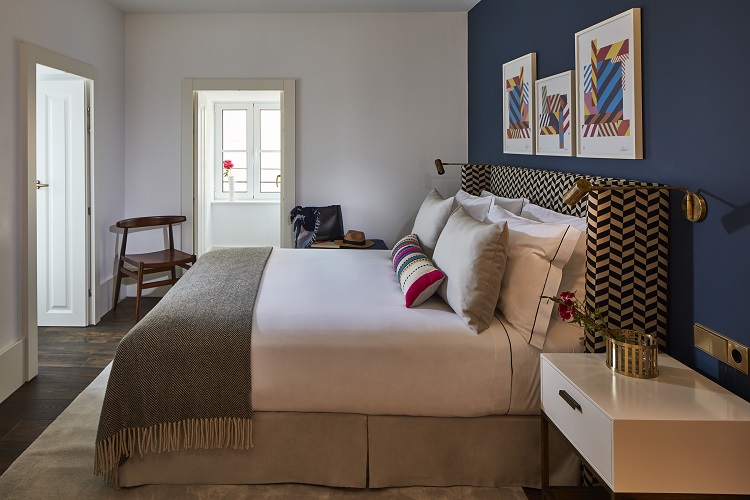 The Lumni restaurant and bar located on the rooftop affords 180 degree panoramic views of historic Lisbon, extending to the Castelo de Sao Jorge and across the River Tagus. Celebrated Portuguese chef Miguel Castro e Silva is at the helm of this high-quality, yet unfussy, menu.
The Lumiares may only have 53 apartments, yet it has all the amenities expected of a five-star hotel, including spa and gym. Secure underground parking is available, truly unique for the center f Lisbon. High-speed wi-fi and concierge services are complimentary.
For more information, visit the Lumiares website.
The Lumiares
Rua Diario De Noticias 142
Bairro Alto
Lisbon
Phone: +351 211 160 200
Email: reservations@thelumiares.com
Photos: The Lumiares Hotel| Filipe Farinha