The world's most famous gem is probably the Hope Diamond, due to the legend that says it is cursed. Yet most people don't know that the world's biggest stone, the most valuable gem, with 127 carats is said to be the Portuguese Diamond.
————————————————–
[ad name="Google Adsense Image Banner for Posts "]
————————————————–
No one knows for sure where it originally came from, but it is thought to have once been part of the Portuguese crown jewels. It is currently in the Smithsonian in Washington DC, which acquired it in 1963 and has displayed it in the American capital's Museum of Natural History.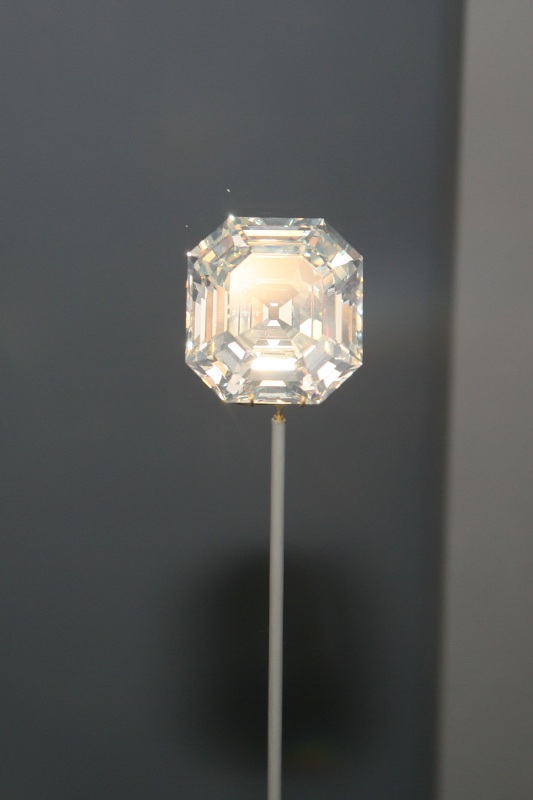 The Portuguese Diamond at 127.01 carats is the largest faceted diamond in the Smithsonian Institutues Gem Collection. It was graded by the Gemological Institute of America (GIA) as M in color and VS-1 in clarity, with very strong blue fluorescence. Its near flawless clarity and unusual octagonal emerald cut make it one of the world's most magnificent diamond gems. The apparent cloudiness in the stone is actually blue fluorescence that is so intense it shows up even under incandescent lights. In 1928, Peggy Hopkins Joyce purchased the diamond from Black, Starr & Frost, mounted on a diamond-studded platinum choker. The jewelry firm indicated that the diamond was found at the Premier Mine, Kimberley, South Africa, in 1910, and that Black, Starr & Frost obtained it shortly after its discovery. In 1951, Harry Winston acquired the Portuguese Diamond from Miss Peggy Hopkins Joyce, a glamour girl of the 1920s. For the next several years it traveled around the country as part of his "Court of Jewels" exhibition. In 1963, the Smithsonian acquired the diamond from Mr. Winston in exchange for 2,400 carats of small diamonds.
If you have the "treasure hunter" spirit, you should visit the Ajuda Palace when you're in Lisbon. It's the last royal palace built in Portugal, and the last official royal residence until the end of monarchy in 1910. It stands just as the royals left it, and shows off an opulent and extravagant collection of decorative arts. Other royal treasures are found in Mafra Palace and inside the "Disneyesque" Pena Palace in Sintra.
(Information used in this article courtesy of Go Lisbon Blog http://www.golisbon.com/blog/, and the Smithsonian Institution http://www.mnh.si.edu/)