Today's lesson: Technology + Creative Design = Über-Cool Furniture. Another equation: Nuno Gonçalves Ferreira (Lisbon sculptor) + Erin Hayne (American designer) = NunoErin Design Studio. Either way you calculate it, the answer is thermosensitive home furnishings that are innovative, functional and awesome.
--------------------------------------------------
--------------------------------------------------
Erin met Nuno in a sculpture workshop in Lisbon. They collaborated and they created. And now, from their studio in Jackson, Mississippi, in the United States, they partner on projects "inspired by nature, that offer engaging ways to experience the objects and spaces we live with."
Their Thermosensitive Experiences collection includes unique products treated with color-changing crystals that shift color in response to body heat. The softest touch leaves behind a dramatic print of the hand or body in a surprising new color. Pull the warmth away and the fabric slowly returns to its natural color.
The Swamp Collection is an experiential line of upholstered seating inspired by the organic forms of the Mississippi swamps and bayous. Five versatile seating elements make up this collection: the Cypress Stool, Swamp Stool, Swamp Stool Kids, Duckweed Lounge and Swamp Lounge. Prices range from about $800 for a stool to $4500 for a lounge.
The Love Handles Chair is a full-figured lounge chair inspired by the body's natural curves. The chair's lounge profile and generous cushioning are ideal for relaxation and comfort.
The Please Touch Pillow adds just a touch of interactivity to your room décor. The pillows are made from smooth synthetic lambskin with embroidered detailing. Please Touch Pillows come in two sizes: Medium (17 Inches) and Large (25 inches). Prices range from $150 to $220.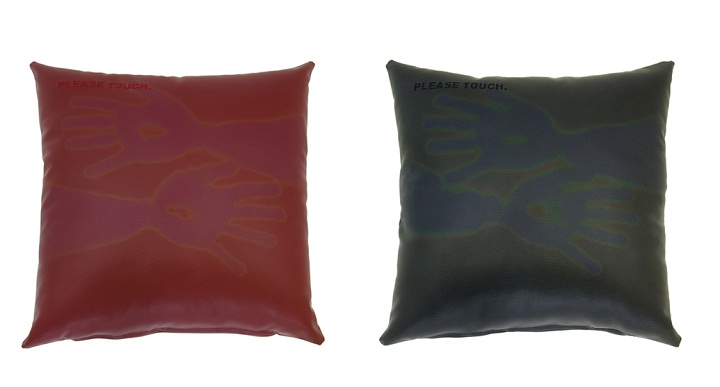 The Touch Wall Panels are modular three-dimensional panels that are unique and contemporary wall sculpture on its own. But like the furniture pieces, these too change color with a touch of a hand or focus of light. The panels hang via a magnetic system. This allows for a reconfiguration of the panels to suit the your changing moods and lifestyle.  Thermosensitive colors are: green to yellow, purple to pink, orange to yellow, and black to green and blue.
NunoErin pieces are primarily sold to the trade. So, notify your interior designer immediately. Or, contact NunoErin below to learn how best to acquire your own thermosensitive pieces.
Besides furniture, NunoErin has also developed public artworks for the Jackson Convention Center and the Mississippi Children's Museum. They are also developing a bioluminescent concrete coating, called Luciform, using light-emitting enzymes.
Learn more about these projects, and the furniture pieces at the NunoErin website.
NunoErin
533 Commerce Street
Jackson, MS 39201
USA
Phone: +1 601 944 0023
Email: info@nunoerin.com