Very rich, really good, home-style cooking, just like your favorite Portuguese aunt used to make. That's Tia Alice (Aunt Alice). It's worth the drive, an hour north of Lisbon to the pilgrimage town of Fatima, to enjoy traditional Portuguese cuisine of the highest quality. Meats and fish are succulent, sauces are thick and creamy, and the portions are large enough for two. It may well be Portugal Confidential's favorite traditional restaurant in Portugal.
--------------------------------------------------
--------------------------------------------------
A small Tia Alice sign hangs over a nondescript door in a building on the road into the center of Fatima. Through the entrance, guests walk down stairs to the dining rooms on the lower level. The ambiance is modern and natural, with stone walls providing texture to the palette of crisp and clean whites and beiges.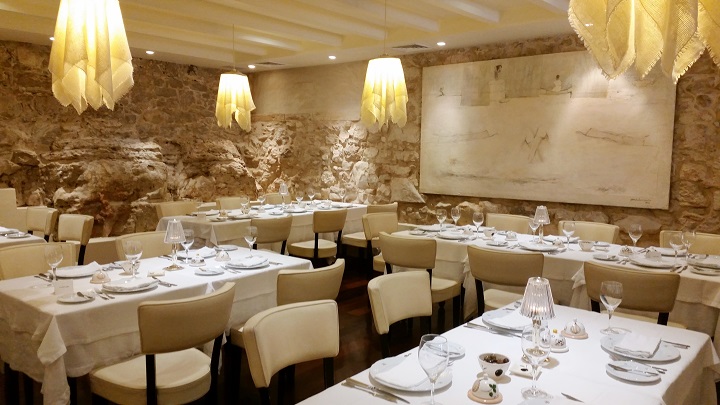 Tia Alice presides over the kitchen. Every dish is prepared by hand using the freshest and best quality ingredients. The chanfana (goat stew) simmers for hours. The veal slowly roasts in the oven. And the creamy gratinados are baked with loving care. Some selections from the very short menu include:
■ Fish Rice with seabass or monkfish
■ Açorda with shrimp or codfish
■ Codfish gratinado
■ Roasted veal
■ Duck rice
■ Slow-cooked goat stew
■ Leite de crème
■ Vanilla ice cream with chocolate sauce
■ Sweet eggs
(above top) Codfish gratinado with shrimp, (bottom left) leite de creme, (bottom right) vanilla ice cream with chocolate sauce
Main courses will likely fill you up. But you MUST order a dessert anyway. The leite crème is a guest favorite. But, we have to recommend the ice cream with chocolate sauce; a truly decadent dish.
For more information, visit the Tia Alice Facebook page.
Restaurante Tia Alice
Rua do Adro, 152
Fátima
Phone: +351 249 531 737
Hours:
Tuesday to Saturday – 12:00 to 15:00 and 19:30 to 21:30
Sunday – 12:00 to 15:00