Collaborating with Portuguese furniture manufacturer Riluc, Grilo has developed a line of household furnishings primarily created from polished stainless steel.  Each product is made by hand, some taking up to 150 hours to produce.  The Bidendum chair (above top) is an elegantly-designed tubular structure ideal for as a show piece for the home or patio.
--------------------------------------------------
--------------------------------------------------
The Swing Sofa consists of a polished stainless steel base and finished in a choice of white or black leather.  The Mousse Table has a high-mirror polishing, and is an extraordinary accent piece.
Grilo is also known for the critically-acclaimed line he created for French flatware company Christofle.  Produced in the Haute Orfèvrerie workshops, Grilo designed table objects such as fruit bowls and trivets using only the Christofle's silver-plated flatware.  The result are simple, elegant and unique museum-quality products sold in limited editions of 20.
However, the item most often featured in this line is the Precious Famine coffee table.  It is made entirely of Christofle forks, spoons and butter knives.
Grilo has also designed a chair using the iconic Portuguese material of cork.  Working with brand Cork Design, The Vinco Chair is a design utilizing geometry to create comfort from what would otherwise be a flat material.   The chair, made strictly from stainless steel and cork is sold at the Cork & Co shop in the trendy Bairro Alto district of Lisbon.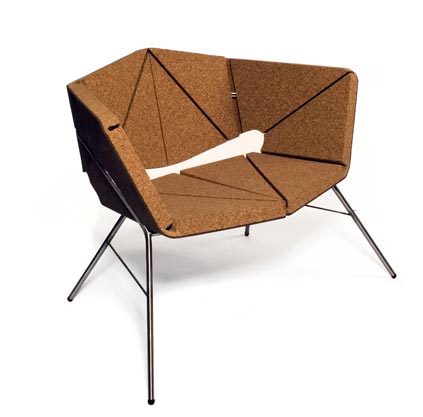 For more information, visit the Toni Grilo website.   For more information on Toni Grilo designs for Riluc:
Riluc Showroom
Rua Dr. Oliveira Salazar, n.º 88
4780-453 Santo Tirso
Phone:  +351 91 400 4300
Email:  info@riluc.com