Another ultra-cool rooftop space opens in Lisbon. This time in Martim Moniz with extraordinary views of Lisbon, from São Jorge Castle and Mouraria, to the viewpoints of Graça and Senhora do Monte. Topo is sure to become the classic spot for after-work drinks, sunset dinners and evening cocktails.
--------------------------------------------------
--------------------------------------------------
A welcome addition to the revitalization of the area, Topo sits atop a multiethnic commercial center, facing the popular Praça Martim Moniz. An elevator carries guests six floors up to the top of the building and delivers them to a chic indoor and outdoor space designed by José Botelho and Miguel Oliveira. Inside, a long wood counter acts as both dining table and cocktail bar. Outside, a terrace extends out into the Lisbon skyline, offering multi-level wooden seating spaces and spectacular city views.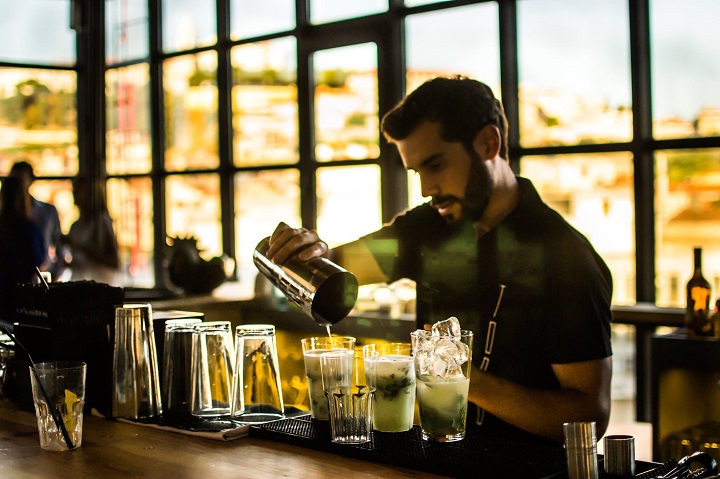 For snack and light meals, Topo has a menu featuring gyoza, chicken satay and alheira to start, Caesar salad and sandwiches of smoked pork belly, steak and tuna, as well as main courses of octopus friend rice, tuna or veal tartare and beef loin. The hamburger with gorgonzola, presunto and caramelized onion is, no doubt, also a crowd-pleaser.
The bar features everyone's favorite alcoholic and non-alcoholic beverages. A specialty menu features drinks concocted by the respected Black Pepper and Basil cocktail masters.
For more information, visit the Topo Facebook page.
Topo
Comercial Center Martim Moniz
6th Floor
Praça Martim Moniz
Lisbon
Phone: +351 215 881 322
Hours
Tuesday to Thursday – 17:00 to 24:00
Friday & Saturday – 17:00 to 02:00
Sunday – 17:00 to 24:00