One of our favorite art and concept spots in Lisbon, Mona Ideas Store, hosts an exhibition of works by Brazilian illustrator Andrea Ebert. In Transferências, Ebert uses her own unique style of monotype transfer process. First she designs an image on Tetra Pak packaging. Using an engraving press she then transfers the ink from sheets to large restaurant-grade paper towels.
--------------------------------------------------
--------------------------------------------------
Born in São Paulo, Andrea Ebert studied fashion and worked as a fashion producer at Vogue and Elle magazines, and on MTV as well as other TV stations. In 2002, she began her career as a freelance illustrator in major advertising and design agencies and also in the main publishing houses in Brazil. For a change in lifestyle, she moved to Lisbon in 2012. She continues to illustrate for Brazil and Europe. And, in the last year, she participated in an artistic residency at MArt where she developed the engraving and drawing processes using simple and sensitive materials.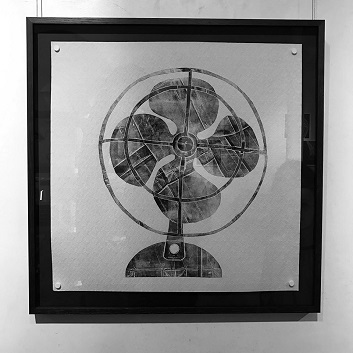 Transferências is at Mona Ideas Store through 14 June.
To learn more about Mona, visit the shop's website.
Mona Ideas Shop
Rua das Janelas Verdes, 70
Lisbon
Phone: +351 309 944 586
Email: ola@mona.pt
Hours: Monday to Saturday – 11.00 to 19.00