One of the world's most prestigious gourmet events returns to the Algarve 10-15 November.  It's the eight edition of Tribute to Claudia International Gourmet Festival at the Vila Joya Boutique Hotel and Spa in Galé.  Over 50 renowned European chefs, most with Michelin stars, participate in a six-night celebration of haute cuisine.  Devotees of fine dining are invited to join in the celebration and, no doubt, enjoy once-in-a-lifetime dinner events.
[ad name="Tribute to Claudia"]
The festival has been dubbed "Tribute to Claudia", in honor of Claudia Jung, the founder of Vila Joya. Her devotion to and passion for high-quality gastronomy and hospitality defines the very essence of the world-renowned hotel and restaurant.
For Tribute to Claudia 2015, Vila Joya has applied this time-honored philosophy to the theme of the festival: Traditions. Therefore, master chefs from the very origins of fine dining, the most acclaimed chefs from Portugal, and some of the finest chefs in European hospitality will be on hand to present their innovative visions of traditional gastronomy. Also on the program, 20 European chefs who mentored under Vila Joya two Michelin-star Chef Dieter Koschina will return to honor the 20th anniversary of his Michelin honor with a 20-course amuse bouche menu. And, no Tribute to Claudia would be complete without a special night of "Koschina and Friends", when good friends (who happen to be extraordinary chefs) come together for fun and food.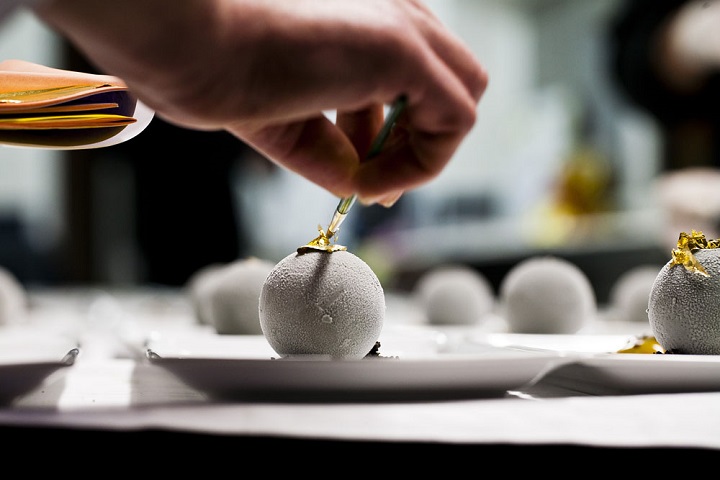 The program for Tribute to Claudia 2015 includes:
Tuesday, 10 November
Hotel Traditions
Feine Privathotels is an exclusive association of hoteliers in Germany, Austria and Switzerland, priding themselves on a culture of haute cuisine and joie de vivre. On this night, nine chefs representing hotels in this group work together to create a masterful menu of traditional gourmet delights.
■ ** Michelin Restaurant Fährhaus, Hotel Fährhaus – Chef Alexandro Pape
■ * Michelin Restaurant Erbprinz, Hotel Erbprinz – Chef Ralph Knebel
■ * Michelin Restaurant Phillip Soldan, Hotel Sonne Frankenberg – Chef Erik Arnecke
■ * Michelin Restaurant Caroussel, Hotel Bülow – Chef Benjamin Biedlingmaier
■ * Michelin Gourmet Restaurant, Hotel Münchhausen – Chef Achim Schwekendiek
■ Restaurant Charn Alpina, Hotel Paradies – Chef Daniel Stütz
■ Restaurant Hugenpöttchen, Schlosshotel Hugenpoet – Chef Erika Bergheim
■ Restaurant Kurfürstenstube, Der Europäische Hof Heidelberg – Chef Michael Szofer
■ Sea Cloud – Chef Michael Fietz


Wednesday, 11 November
Incredible India by Chef Alfred Prasad
With this night falling on Diwali, the most significant festival in Indian culture, it seems fitting to celebrate the historic connections of Portugal & India. Indian Chef Alfred Prasad is invited to the Vila Joya kitchen to showcase a festive 21st century spin on centuries-old traditional Indian dishes, delicately balancing authenticity and crEATivity.
Alfred Prasad earned the honor of becoming the youngest Indian Chef to win a Michelin Star, at 29 years of age, during his time as Executive Chef at the Tamarind of Mayfair.
Thursday, 12 November
Tribute to Koschina
A special night celebrating a special anniversary: Chef Dieter Koschina, 20 years as a Michelin Star Chef. During his long career, Chef Dieter Koschina mentored many of todays renowned Chefs working in across the globe, and many achieving their own Michelin star. On this night 20 of those chefs will work together to create a 10-course amuse bouche dinner.
■ ** Michelin Restaurant Ammolite Europapark – Chef Peter Hagen
■ * Michelin Restaurant Westfälische Stuben Parkhotel Surenburg – Chef Richard Nussel
■ * Michelin Restaurant KAI3 Hotel Budersand – Chef Jens Rittmeyer
■ Restaurant Balance, Hotel Stegersbach – Chef Bernhard Posh
■ Restaurant Adler – Chef Siggi Tschurschenthaler
■ Restaurant Terazza – Chef Klaus Deutschmann
■ Deins und Meins – Chef David Fischboeck
■ Restaurant De Kluizenaer – Chef Alexander Kooman
■ Restaurant Schlossherrnstube – Chef Gunther Döberl
■ Atelier Wolf – Chef Michael Wolf
■ Restaurant Seefischer – Chef Christian Gölles
■ Restaurant At Eight – Chef Peter Kroiss
■ Harvey Nichols – Chef Lucy Lourenco Queiroz
■ Chef Matthias Bernwieser
■ Chef Gerhard Brugger
■ Chef Christian Spitzer
■ Chef Thomas Klug
■ Chef Rudi Tomseji
■ Chef Gebhard Schachermayer
■ Vila Joya – Chef Matteo Ferrantino
Friday, 13 November
Koschina & Friends
Since the gourmet festival's inception in 2007, the "Koschina & Friends" is always the highlight of the week-long event. This evening is dedicated to Chef Koschina´s closest cooking friends! Famous Michelin Star Chefs from most of the European countries will join Chef Koschina in creating their own special gastronomic celebration. Participating chefs still in development.
Saturday, 14 November
crEATive Portugal
Portugal as 12 Michelin Star restaurants, and each of the honored chef of those restaurants will be at Vila Joya in the same night for a special Portugal –themed gourmet event. Each chef will create a preferred dish from their childhood, in their own uniquely innovative and highly-technical style.
■ ** Michelin Restaurant Ocean – Chef Hans Neuner
■ ** Michelin Restaurant Belcanto – Chef José Avillez
■ * Michelin Restaurant The Yeatman – Chef Ricardo Costa
■ * Michelin Restaurant Fortaleza Do Guincho – Chef Miguel Vieira
■ * Michelin Restaurant L'and – Chef Miguel Laffan
■ * Michelin Restaurant Sao Gabriel – Chef Leonel Perreira
■ * Michelin Restaurant Il Gallo de Ouro – Chef Benoit Sinthon
■ * Michelin Restaurant Henrique Leis – Chef Henrique Leis
■ * Michelin Restaurant Feitoria – Chef João Rodrigues
■ * Michelin Restaurant Casa da Calcada – Chef Andre Silva
■ * Michelin Restaurant Pedro Lemos – Chef Pedro Lemos
■ ** Michelin Restaurant Vila Joya – Chef Dieter Koschina


Sunday, 15 November
Munich Maestros
Munich is not only the home town of the Jung family, but it is also considered the birthplace of German haute cuisine. Having been immersed in the rich culinary tradition of Munich, Chef Dieter Koschina and Vila Joya welcome some of the most inspiring and internationally renowned icons of German gastronomy. They include:
■ Chef of the Century – Chef Eckart Witzigmann
■ ** Michelin Restaurante Tantris – Chef Hans Haas
■ ** Michelin Restaurante Residenz Heinz Winkler – Chef Heinz Winkler
■ Chef Otto Koch


Click here to download the complete Tribute to Claudia 2015 program.
For more information and to book reservations, visit the Tribute to Claudia website..
Vila Joya
Estrada da Galé
8200-416 Albufeira
Algarve, Portugal
Phone: +351 289 591 795
Fax: +351 289 591 201
Email: info@vilajoya.com