When someone mentions the Conrad Algarve, perhaps the first things that comes to mind are the luxury accommodations, or the gourmet cuisine, or maybe the award-winning spa. Of course, those are all fabulous. Yet, this vast resort is also full of many cultural, artistic and design treasures.
In fact, there are delightful, carefully-thought-out details everywhere one looks. Grand artisan chandeliers grace the entrance to the hotel and the spa. Unique art objects appear around every corner. And, high above the five story lobby atrium is a very special masterpiece….a hand-painted trompe l'oeil work by Mariana Diano.

The original design plan for the Conrad Algarve involved a mural to be painted in the dome of the atrium that would match other design elements around the lobby. Loulé-based art consultants ArtCatto Gallery commissioned muralist Diano for this extraordinary challenge.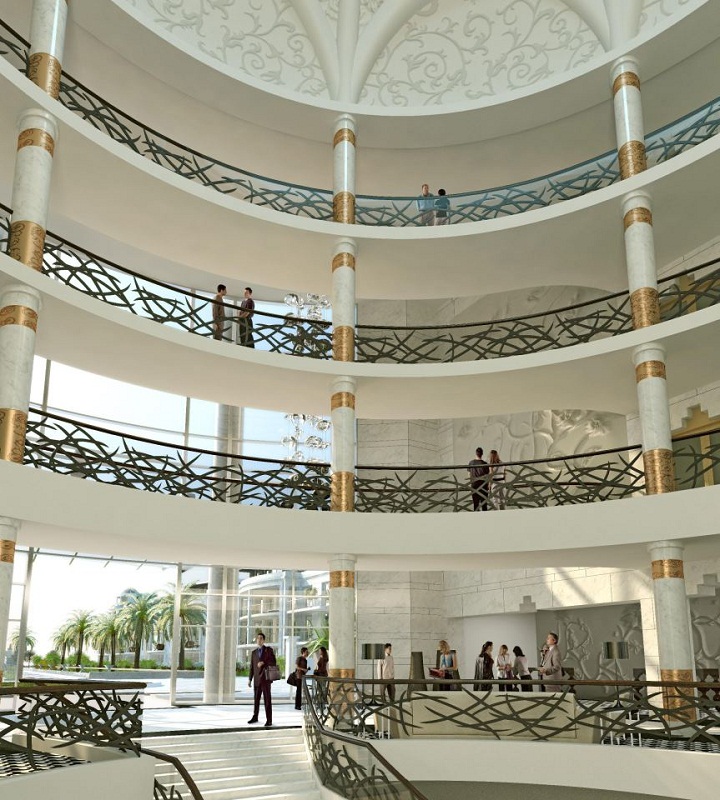 Diano has been working in decorative arts for over 15 years. "I discovered a way of living from my art," explains Diano, "when I went to London and started working for a company that does murals, trompe l'oeils and paint effects." While in London, she was commissioned for jobs in France working for the brother of the King of Saudi Arabia, and in Mustique, a small private island in the St Vincent and Grenadines, in the Caribbean. One mural project brought her to the Algarve. She fell in love with the region and decided to stay.
Much like a modern Michelangelo, Diano worked from a platform erected on top of massive scaffolding. Using acrylics, she hand-painted the designs which resemble flowering vines. The palette is primarily tones of gray. However, occasional uses of yellow and red provide an extra dimension, giving life to the piece.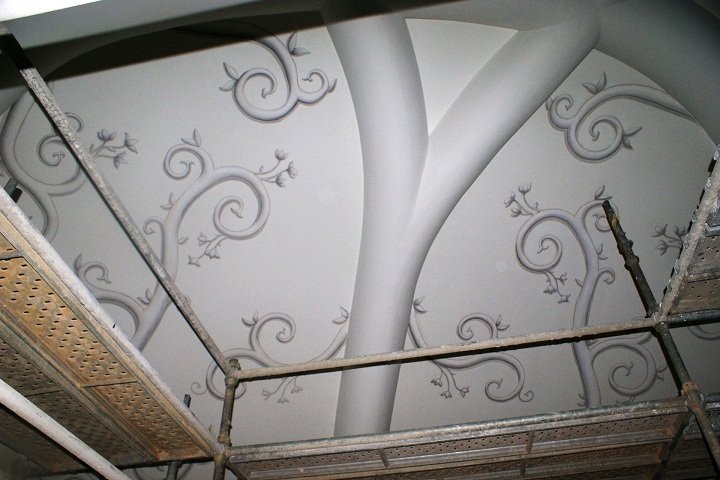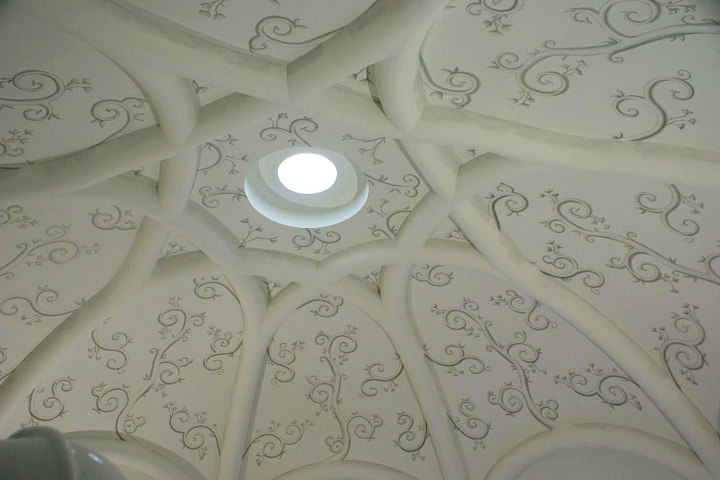 Diano was given ten weeks to complete the work. However, in the midst of the project, she was advised that two of those weeks must include time to deconstruct the scaffolding. With the shortened schedule, Diano brought in two assistants to deliver the work on time.
Will Diano be painting any more domes soon? Probably not in the immediate future, but, she has found another passion. "I am doing two Verre Eglomises for a client in Quinta do Lago. In the Lago Lounge at the Conrad Algarve, you can see two Verre Eglomise mirrors done by me. This technique dates back to the 12th century. Glass is painted in reverse and the mirror effect is created using genuine silver leaf. This is a rare technique that is becoming popular in modern architecture around the world."
For more information on Diano, visit the Mariana Diano Decorative Arts blog. For more information on the hotel, visit Conrad Algarve website.
Conrad Algarve
Estrada da Quinta do Lago
8135-106 Almancil
Central Algarve
Phone: +351 289 350 700
Guest Fax: +351-289 350 705
Email: conradalgarve.reservations@conradhotels.com