Currently on exhibition at the Museu Calouste Gulbenkian in Lisbon are sumptuous textiles, bejeweled arms and armor, golden equestrian equipment and other magnificent objects from the Kremlin Museum. These treasures illustrate the story of diplomatic relationships between 16th- and 17th-century Russia and its eastern allies—Ottoman Turkey and Safavid Iran. The Tsars and the East (Os Czares e o Oriente ) exhibition runs through 18 May 2014.
--------------------------------------------------
--------------------------------------------------
Many of the six dozen objects in the collection were given by Ottoman sultans and the shahs of Iran, and others were offered by wealthy merchants to the Russian tsars and patriarchs of the Russian Orthodox Church. All were originally bestowed on Russia by neighboring powers hoping to advance their economic and political agendas.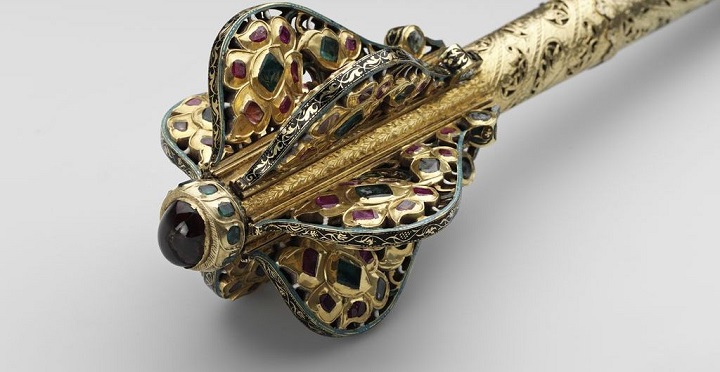 Some of the earliest gifts on view are extraordinarily fine arms and armor from Iran, including an early 16th-century shield inlaid with gold. Iranian and Turkish ceremonial arms and armor were part of the "Grand Attire," a designation given to the most valued treasures of the tsar. By the 17th century, many Russian craftsmen had begun to assimilate Ottoman designs into their work, combining eastern designs with traditional Russian motifs on imported Iranian and Turkish fabrics.
For more information, visit the Museu Colouste Gulbenkian website.
Gulbenkian Centro de Arte Moderna
Sala Exposições Temporárias
Rua Dr. Nicolau de Bettencourt
1050-078 Lisboa
Phone: +351 217 823 474
Email: museu@gulbenkian.pt
Entrance: € 4.00
Hours
Tuesday through Sunday – 10:00 to 18:00
Closed on Mondays (and December 25th, January 1st, Easter Sunday & May 1)