Vila Joya is truly a heaven on earth.  Yes, it is an amazing beach-front boutique hotel.  Yet, this hotel experience allows you to please your palate at a world-renowned Michelin 2-Star restaurant, and pamper your soul at the Joy Jung holistic spa.   And, you might also want to take advantage of the golf academy or the chill-out Sea Bar.
--------------------------------------------------
--------------------------------------------------
The Moorish architecture property was originally a private villa built in the 1970s.  It was converted to a luxury resort in 1982, and the owners have continued to tweak and perfect the property transforming it into an international award-winning hotel.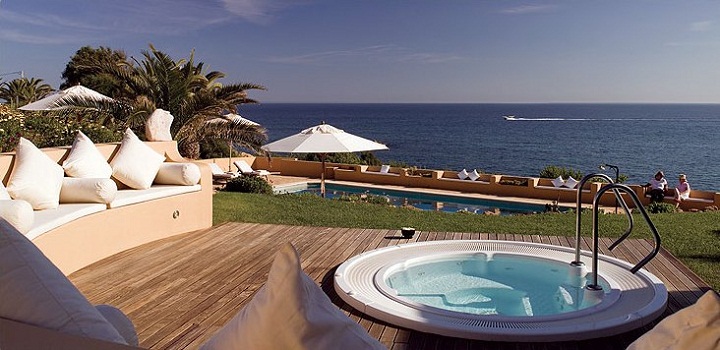 Villa Joya Hotel
This boutique resort has only 20 rooms:  12 luxurious standard and deluxe double rooms; and 8 well-appointed and spacious Junior and Royal Suites with beautiful sea views of Portugal's Algarve coast.  Each room is individually design with pure comfort in mind.  Furnishings combine style and quality with luxurious fabrics and original artwork, creating an an ideal retreat to get away from everyday life.  Room rates include breakfast, or select half-board with dinner in the gourmet restaurant.
Vila Joya Restaurant
Chef Dieter Koschina provides the inspiration and creativity to Portugal's Michelin 2-Star restaurant.  Koschina creates a menu of the finest "slow food" in the country.  He combines fresh-from-the-market local produce and ingredients, with seafood from the Atlantic, and French haute cuisine training, to conjure up exquisite and delicious masterpieces on each plate.   The restaurant's wine cellar has over 12,000 available to compliment the meal.
Joy Jung Spa
This luxurious Moroccan-inspired facility is the antidote to heaviness of everyday life you carry.  The spa's holistic approach to wellness and relaxation is sure to revitalize your spirit and redirect your energy.  The award-winning spa facilities include:  facial room and small gym, both with sea view; treatment rooms for private or couples massages as well as an outside massage facility;  two saunas, a steam bath, heated outdoor Jacuzzi; two outdoor swimming pools; and a garden for relaxation.

Limousine or helicopter service is available to or from the hotel, or as you may require during your stay.  VIP transfers from Faro or Lisbon airports are also available.
More information at Vila Joya website.
Hotel Vila Joya
Praia Galé
(just west of Albufeira)
Algarve

Reservations for Hotel, Restaurant and Spa:
Phone:  +351 289 591 795
info@vilajoya.com
spa@vilajoya.com
Restaurant Hours
Lunch orders taken from 13:00 to14:00
Dinner orders taken from 19:30 to 21:00