Enter the secured gates of Vila Vita Parc, near Porches in the western Algarve, and you enter a vast sanctuary of sumptuous accommodations built for relaxed lifestyle, mixed with Portuguese hospitality and first class service.
--------------------------------------------------
--------------------------------------------------
This five-star resort sits on 54 acres of rolling landscape, perched atop cliffs overlooking the Atlantic. From every position there is a view of the ocean, a lake or a lush garden. Around every corner there is an occasion to energize, to taste or to unwind. In every moment there is a reason to enjoy.
Click here to view or download a Vila Vita Parc Resort Map.
Vila Vita Parc has 180 accommodations to suit every taste. What are you in the mood for? In the main building, there are 65 deluxe rooms and eight suites, beautifully appointed with every amenity.  A short walk away is the Residence. There are 26 suites, 2 townhouse suites and a Grand Suite in this development resembling a manor house. To the east of the grounds, a cluster of buildings make up Oasis Parc. Here, 60 suites offer luxurious accommodation, half of which have rooftop terraces. If you and your entourage require more room and privacy, Vila Vita Parc has five private villas, each with a pool and outstanding ocean views.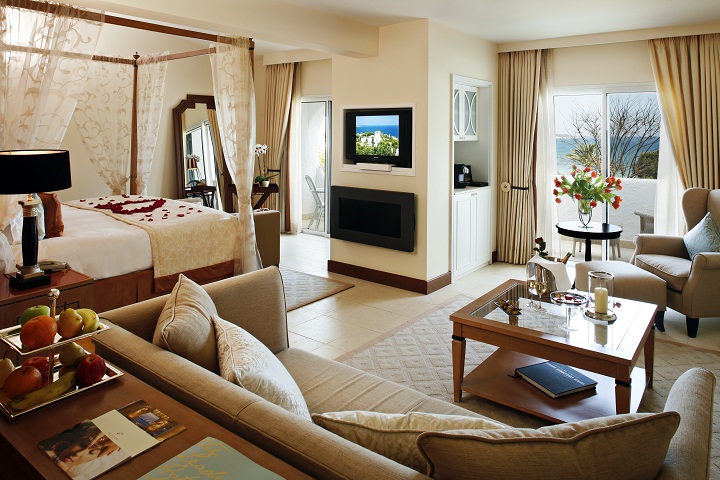 One Bedroom Ocean Suite
Gastronomy is an important feature of the Vila Vita Parc experience. The resort offers many styles of cuisine, each with a unique ambiance. At the Piazetta, Adega serves superb traditional Portuguese cuisine, in a rustic old world setting, where you can often enjoy fado and Portuguese guitar. At the elegant Atlântico, unobstructed ocean views from open terrace tables enhance the outstanding Mediterranean cuisine. The Aladdin Grill with its Moorish palace architecture, specializes in premium meat and fish prepared in the open kitchen in the center of the restaurant. Bela Vita offers a wide selection of international cuisine for lunch and dinner, as well as a lavish buffet for breakfast. For quick bites, the Oasis Bar, Café Bica, Pool Bar and Palm Bar are in convenient locations around the resort.
Certainly not to be missed is Vila Vita Parc's very own Two Michelin Star Restaurant, Ocean. Since his arrival in 2007, Austrian chef Hans Neuner has transformed Ocean into one of Portugal's most respected restaurants. His innovative approach to international cuisine using locally sourced fresh products earned him a Michelin star in 2009, and a second in 2011. He has also been named Portugal's Chef of the Year in 2009 and 2012. Visit Ocean for exquisite haute cuisine and impeccable service.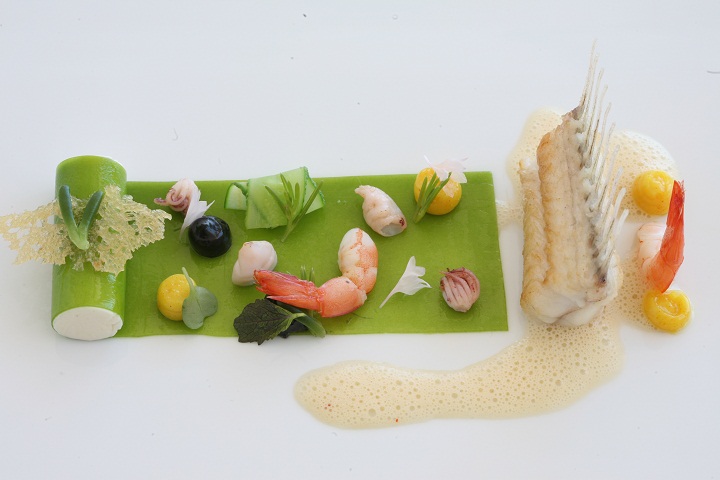 Cuisine of Hans Neuner at Ocean Restaurant
Just outside of the resort are two more unique dining experiences. The German Biergarten, in the nearby village of Porches, has authentic Bavarian specialties such as fresh homemade sausages, schnitzel, herring, pretzels and apfelstrudel. Wash it down with a large stein of Paulaner beer. Head to the beach in Armação de Pêra for fresh fish and seafood at the casual but stylish Arte Náutica. The resort shuttle bus is always available to take you to both locations.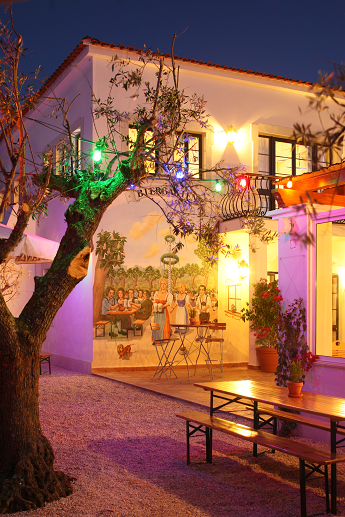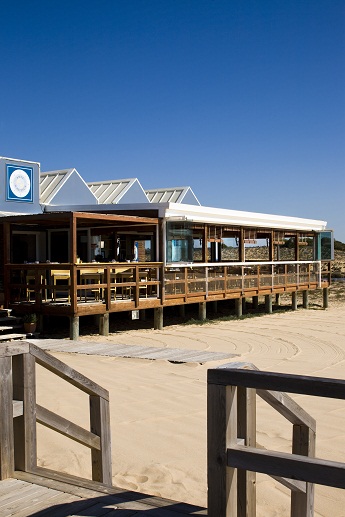 Biergarten (left), Arte Náutica (right)
When it's time to push away from the table and burn off some calories, Vila Vita Parc has a plethora of entertainment options. There are no less than eight pools (one heated indoor, four outdoor and three children) for swimming and splashing. Just a few steps away is a secluded beach with fine sand and refreshing Atlantic waves. The 18-hole putting and 9-hole pitch course, as well as the volleyball and five tennis courts keep the athletically-inclined content. There's even a play area designed for endless fun for the young ones.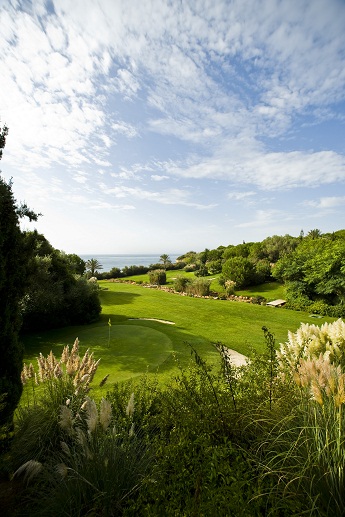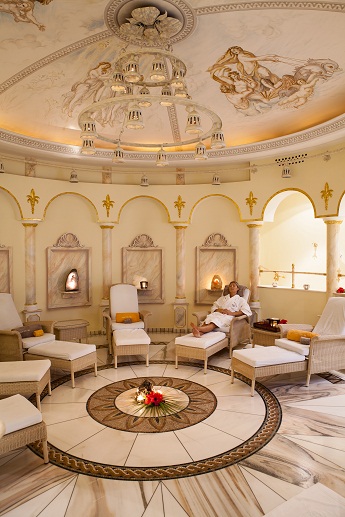 Pitch Course with Ocean Views (left), Vila Vita Vital Spa (right)
For relaxing, rejuvenating and revitalizing, the resort offers not one, but three different wellness facilities. Exclusive to Portugal is Vila Vita Parc's HYPOXI-Studio. This unique and effective method for weight loss is based on a specifically-designed training program and a balanced nutrition plan. It is truly an innovative approach to body shaping. The complimentary Delfim Health Club offers everything you need for your fitness regime; gym, yoga classes, Jacuzzi, heated indoor pool, sauna and ice room. The Vila Vita Vital Spa is the place to go for well-deserved pampering. The facility offers many traditional and signature massages and body treatments.
When it's time to splurge on luxury, Vila Vita Parc knows what you need. The 72-foot Princess yacht features a spacious lounge and dining area, galley, as well as three guest cabins. It can be reserved for half- or full-day excursions, or book your very own mini-voyage. Back on land, the resort's Bentley can be reserved for special trips in the region or VIP transfers to the airport. And, wine enthusiasts are in for a treat when they make plans for a tasting session or private dining in Vila Vita Parc's Cave de Vinhos. This hidden cellar boasts 11,000 bottles of wine from Portugal and around the world.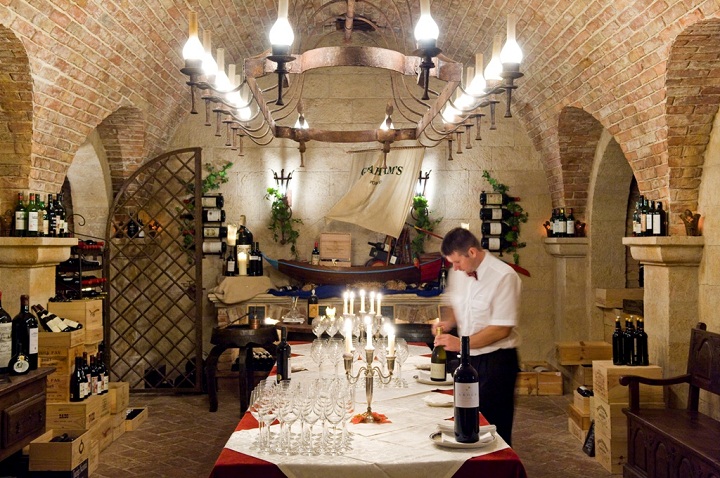 Cave de Vinhos
For more information on this amazing resort and the multitude of experiences to be discovered , visit the Vila Vita Parc website.
Vila Vita Parc
Rua Anneliese Pohl
Alporchinhos
Porches
Algarve