Enjoy fine cuisine and exquisite wine, in the company of a respected chef, in one of the Algarve most exclusive and secretive locations. VILA VITA Parc, the luxury resort on the cliffs overlooking the sea in Porches, has created a special experience in their very own Cave de Vinho, a wine cellar located nine meters below ground.  It's time to  "Meet the Chef at the Cellar".
--------------------------------------------------
--------------------------------------------------
The objective is to offer oenophiles and foodies a very personalized, intimate and enriching experience with the celebrated products of the Cave de Vinhos. Those who visit the cellar are able to better understand the secrets behind the creation of each dish and the pairing of the wines and their stories, in a unique and elevating dining experience.
The menu is varied and deliciously appetising: Portuguese, Italian, French and British cheeses, a selection of charcuterie and tapas such as octopus salad, foie gras, prawns, mackerel tartar or Pata Negra cured ham with eggs and asparagus. If guests prefer a more traditional style Portuguese meal, the Cod with Chickpea purée, or the Oxtail with Turnip purée are highly recommended. All the dishes are complemented by the excellent selection of wines from the VILA VITA Wine Cellar, which are equally exquisite and unforgettable.
The Wine Dinners include a selection of four tapas as a starter, a main dish, dessert or cheese, and three glasses of wine recommended by the sommelier. The expert team of sommeliers at the Cave de Vinhos are on hand to help guests discover this impressive underground wine world and pair the best vintages with your meal, for 98€ per person.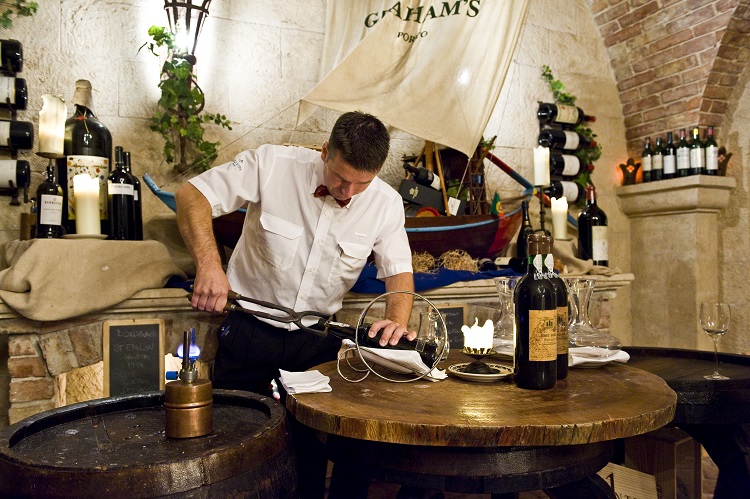 The Wine Cellar is open three times a week, between 15:00 and 21:00.
Cave de Vinhos
VILA VITA Parc
Rua Anneliese Pohl
Alporchinhos
Porches
Portugal
Phone: + 351 282 310 100
Fax: +351 282 320 333
Email: reservas@vilavitaparc.com