Anyone who has visited to the Algarve should be aware of the spectacular kilometers-long beaches and beautiful cliff top views of the Atlantic. Few, however, get the opportunity to experience the wonders of the Algarvian coastline from the sea! VILA VITA Parc Resort and Spa, in Porches, presents a very unique chance to sail along the southern coast: aboard their 72 foot Princess yacht.
--------------------------------------------------
--------------------------------------------------
Onboard the VILA VITA Parc yacht, the Algarve takes on a completely different personality. The ocean-facing cliffs are adorned with monumental rock formations, private cove beaches and naturally-formed caves and grottos. Every kilometer provides magnificent new sights and rare photo opportunities. In the water, a pod of dolphins is likely to surface, distracting your attention from the shore. With years of experience navigating Portugal's coastline, Captain José and his crew will be certain to maximize the marine experience.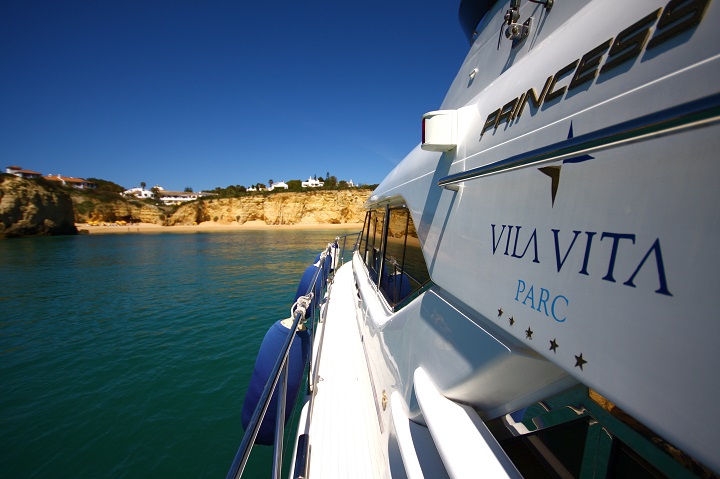 Seafarers will be interested to know that two 1000 horse power engines easily propel the 62.7 ton ship at a cruising speed of 16 knots. It can reach a maximum speed of 30 knots.
Voyagers who enjoy the finer points of travel will appreciate the elegance of the yacht. The spacious interior features a lounge, dining area, galley and three guest cabins. The décor is rich and sumptuous, emulating the style and sophistication of VILAVITA Parc accommodations. A maximum of 10 people will find themselves quite comfortable, indeed.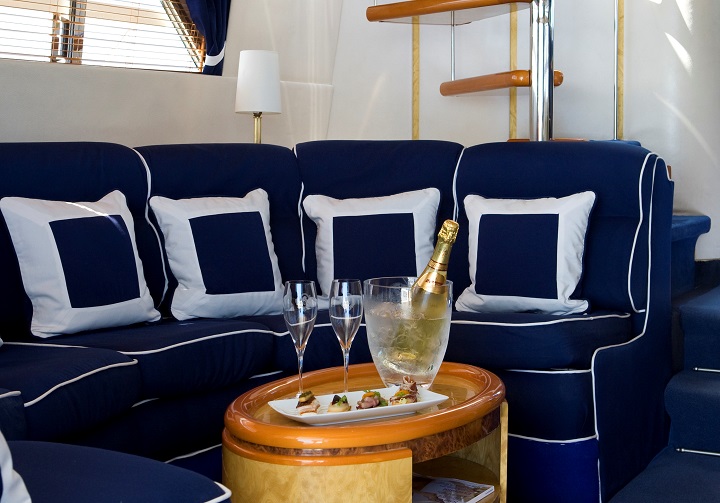 Private excursions are available in a variety of rates and activities. A half-day cruise (four hours) includes transfers, a light lunch and beverages. A full day (eight hours) includes transfers, but also offers a buffet lunch, champagne, beverages and water sports activities. For a romantic evening, the sunset cruise (three hours) comes with transfers, champagne and canapés.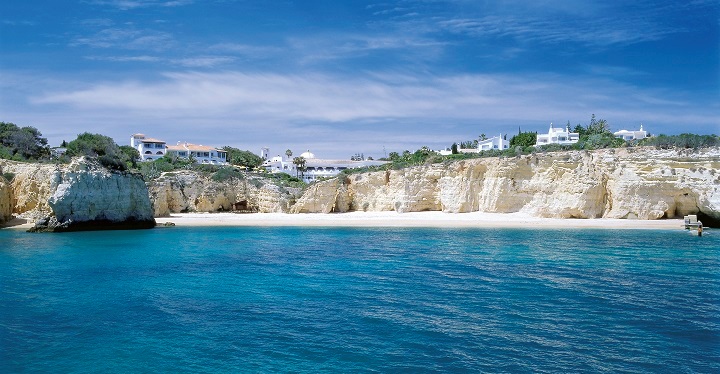 By request, the VILA VITA Parc hospitality staff can create personalized excursions for every event or mood. Imagine, an elegant lunch served on a secluded beach. As well, the yacht can be used as elegant water transport to Arte Nautica, VILA VITA Parc's Portuguese restaurant on the beach in Armação de Pêra.
Click here to view and download the VILA VITA Yacht brochure.
For more information on yacht charter and booking, contact:
Call from Portugal: +351 282 310 136
Call form Germany: +49 (0) 642 16 005 666
Email:   hospitality@vilavitaparc.com
To learn more about VILA VITA Parc Resort & Spa, visit their website.
VILA VITA Parc
Rua Anneliese Pohl
Alporchinhos
8400-450 Porches
Algarve
Click here to see VILA VITA Parc on Google Maps
Resort Phone: + 351 282 310 100
Resort Fax: +351 282 320 333
Resort Email:  reservas@vilavitaparc.com