Many people come to the Algarve for sun. Others arrive for golf. Some enjoy the international cuisine. But, MOST just want to relax!
VILA VITA Parc Resort & Spa is the ideal destination to fulfill all of these wishes. Yet, it's the VILA VITA Vital Spa that is the oasis of tranquility for those in need of peace, pampering, rejuvenation and exhilaration.
--------------------------------------------------
--------------------------------------------------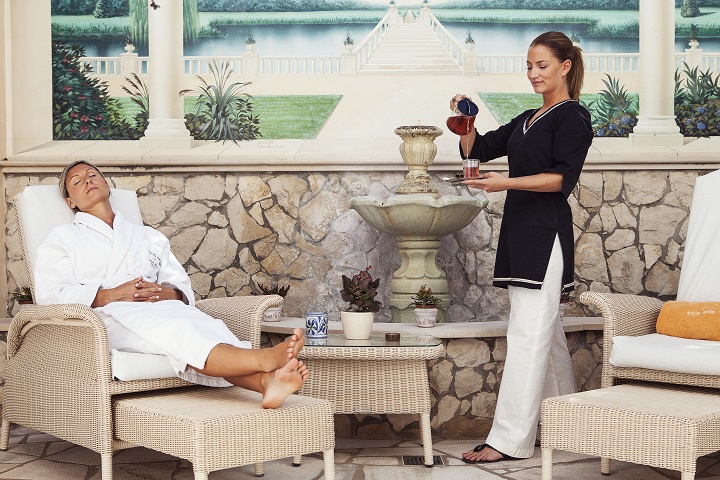 Located in a stand-alone structure of the resort, VILA VITA Vital Spa features a wide range of facilities, such as the traditional Jacuzzi, steam bath and dry Finnish sauna. However, spa-aficionados will enjoy some unique experiences too, such as the infrared sauna, which provides deeper penetrating heat at lower temperatures. The Rasul bath, the Asian version of the Turkish bath, is used in combination with a variety of detoxifying full body mud applications.  Trace elements and minerals from the sea revitalize in the Algae Bath.  The Tepidarium with its heated stone beds is perfect for relaxing aching and tired muscles. And, the cold waterfall produces a powerful curtain of water to massage and refresh the body.
Ten treatment rooms, including a double treatment room for couples, at the VILA VITA Vital Spa, provide the opportunity to pamper yourself with a variety of massages options:
■ Cranio-Sacral Therapy – a unique treatment to improve body function by treating the Craniosacral system.
■ Deep Tissue Massage – this intensive treatment releases pain and tension, and increases muscle recovery.
■ Golfer's Massage – improve your game through a greater range of movement, with a focus on upper body, hips and lower arms.
■ Lymphatic Drainage – treatment designed to ease swelling and improve the flow of lymphatic fluid.
■ Osteopathy – a medical discipline based on a verbal anamnesis, manual diagnosis and treatment of impaired movement, by applying different techniques on the spine, muscles, joints, facial tissues or inner organs.
■ Physiotherapy/Manual Therapy – a classic combination of massage, breathing, stretching and active movement techniques.
■ Reflexology – the energizing foot treatment, by working on pressure points to release tension throughout the body.
■ Swedish Massage – the classic massage personalized for your specific stress areas.
For renewing your outward radiance, the VILA VITA Vital Spa offers extraordinary beauty treatments, including Kanebo and La Sultane de Saba products.  Kanebo, the most luxurious product line, is used in treatments for lifting, rejuvenating and cleansing facials, as well as specially-designed treatments for firming, toning, slimming and detoxifying the body.  La Sultane de Saba, the natural product line with seven Asian fragrances to choose from, provides deeply nourishing body treatments as well as hydrating and nourishing facials.  Manicures, pedicures and waxing are also available to complete the spa experience.
For the ultimate indulgence, try the 2 ½-hour La Sultane de Saba Queen Saba for Her and King Salomon for Him. These treatments start with an intensive cleansing ritual with Black Eucalyptus Soap, which eliminates toxins and rejuvenates circulation.  Next, a body wrap with nourishing body care mask is applied, followed by hands-on massage to the body, face and head. Your skin will be cleansed and toned, your body will be revitalized and your mind relaxed and uplifted.
Click here to read and download a full VILA VITA Vital Spa Treatment Menu.
Complement your total body experience with cardio vascular and strength training at VILA VITA PARC's Energym, located at the Delfim Health Club.  Or, focus on improving your shape at the on-site HYPOXI STUDIO, the only facility of its kind on the Iberian Peninsula,  using a moderate workout routine and balanced nutrition plan, targeting undesired fat deposits through the combination of alternating pressure therapy and moderate fat burning activity.
For more information on Vital Spa, and all other amenities of the resort, visit the VILA VITA Parc website.
VILA VITA Parc Resort & Spa
Rua Anneliese Pohl
Alporchinhos
Porches
Portugal
Click here to see VILA VITA Parc on Google Maps
Spa Phone: +351 282 320 351
Spa Email: vital@vilavitaparc.com
Resort Phone: + 351 282 310 100
Resort Fax: +351 282 320 333
Resort Email: reservas@vilavitaparc.com
Vital Spa has specials too. Check out these offers for Spring, Summer, Autumn, Winter, City Escape and Women's Special.