Wouldn't it be a luxury to escape to a place that captures the serenity and charm of an old-world village, yet offers the comfort and security of 21st century amenities? It's possible. Villa Pedra Natural Houses, just south of Coimbra in central Portugal, is a true sanctuary where quaint and quiet meets contemporary comfort. To borrow the slogan from their website, Villa Pedra offers…the supreme privilege of doing nothing.
--------------------------------------------------
--------------------------------------------------
The hilltop village of Aldeia da Cima had been abandoned for 70 years when it was rediscovered by Lisbon businessman Manuel Casal (cofounder of Stivali multi-brand stores). He had a vision to transform the rustic setting into a weekend retreat for himself, as well as a hospitality business for guests seeking privacy, security, comfort and contemporary conveniences. To realize this dream, Casal, enlisted the design acumen of architect Victor Mineiro. Mineiro salvaged the natural stone elements of the existing structures, incorporating the unique architectural features into completely modern residential environments.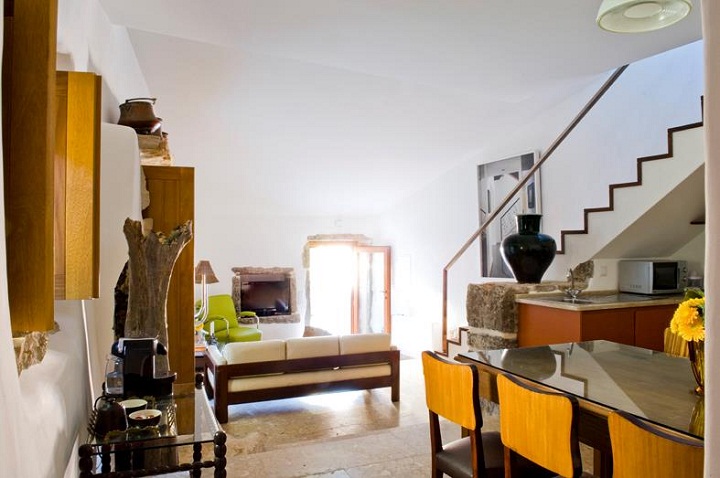 At present, Villa Pedro consists of seven distinctively different houses: four with two bedrooms; two with one bedroom; and one with one+one bedrooms. All homes have a full-size lounge and dining area, and most have a good sized patio, terrace and/or garden.
The homes are impeccably decorated with everything an inspired designer and creative architect can imagine. Unique, furniture is rescued and restored from such diverse sources as an old convent and a long-gone art deco hotel. Decorative objects are treasures found at auctions or markets, and art on the wall is produced by Mineiro himself. Huge slabs of stone from the surrounding hills are hauled into the homes and utilized as wall decoration, bathroom countertops and even shower stalls.
Every house has a modern, fully-equipped kitchen with stove, oven and microwave. There's also a toaster, coffee maker, pots, pans, utensils and dishes. Guests can prepare dinners with fresh local produce from a farmers' market in the nearby village.
For breakfast, the refrigerator comes stocked with fresh juice, milk, eggs, butter, cheese, ham, yogurt, jams and fruit. Every morning, fresh bread from the village is delivered in a cloth sack to the front door of each house. Whether breaking bread at the kitchen table, or sipping a cup of coffee on the sunny terrace, mornings at Villa Pedra are a unique luxury.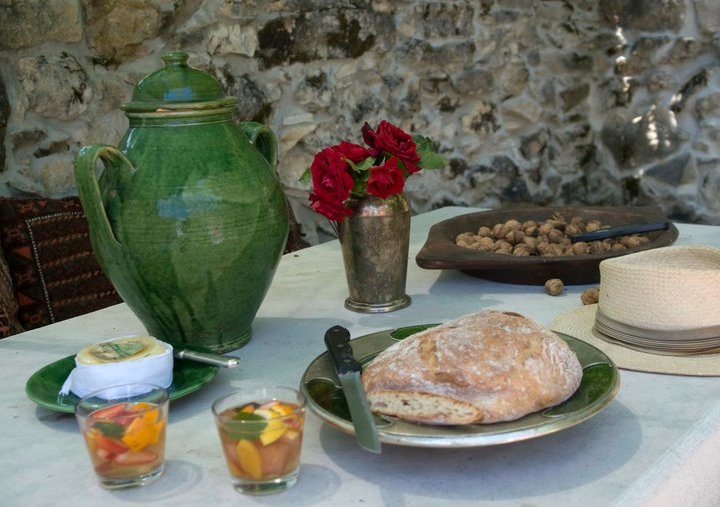 The Villa Pedra property offers many surprises around every turn. One wooden stairway rises up to a secluded hillside Zen gazebo. A stone path leads to a pool with lounge chairs decorating the lawn. Follow bird calls across an expansive garden to the aviary, home to a menagerie of ducks, swans, hens and exotic birds. Every location is expertly placed with beauty and relaxation in mind.
Watch this village of Villa Pedra grow. Manuel and Victor have plans to transform more structures into beautiful designer villas. Also expected this summer is a new restaurant springing out from an abandoned school house.
Villa Pedra is a sanctuary for short- or long-term retreats. For more information, visit the Villa Pedra website.
Villa Pedra Natural Houses
Rua Rechio e Seladas
Pombalinho
3130-092 Soure
Just south of Coimbra
Central Portugal
Phone: +351 910 731 194
Email: info@villapedra.com