The Volvo Ocean Race will be hosted in Lisbon from 31 October. This is sailing's longest and toughest challenge, alongside the Olympics and America's Cup. Now in it's 44th year, and in the era of One Design racing, it is teamwork, skill and sacrifice on the water, not in the design, that are the deciding factors for this challenge. The 2017-2018 edition will take the eight teams 45,000 nautical miles around the world, across four oceans, six continents and 12 host cities, including our own Lisbon. The race finishes eight months later in The Hague. The longest course in history; it will feature three times as much Southern Ocean racing compared to recent editions.
Photo at Top: ©Ricardo Pinto/Volvo Ocean Race
--------------------------------------------------
--------------------------------------------------
On 22 October, the eight teams will race one of four courses determined by the Race Committee and current weather conditions. Ranging from 1100 to 1700 nautical miles from the race's home port in Alicante, the yachts are expected to arrive into Lisbon's harbor from 29 October. Although the Mediterranean Sea arouses images of moonlit nights and pleasant evenings, it will not be clear sailing (excuse the pun!). Hugging the east coast of Spain before moving south and taking a right hand turn at Cabo Sao Vicente, Portugal's southwest extremity of Europe, weather is unpredictable as the race starts in the autumn equinox. Sailing though the Straits of Gibraltar is considered the most challenging section. A strong current runs through this eight nautical miles wide channel. This race has the world's international sailors vying for top spot as they cross the world's oceans.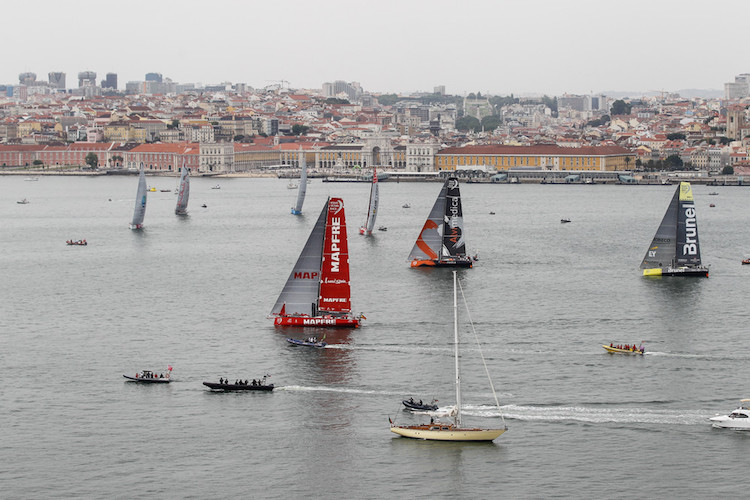 Photo Above: ©Ainhoa Sanchez/Volvo Ocean Race
The Boatyard at the Race Village will be open from 31 October to 5 November. A permanent facility where boatbuilding experts work to prepare the fleet, it is open to the public. A captivating way to rub shoulders on land with yachtsmen and yachtswomen and to acknowledge the work involved in preparing these vessels for their eight month race around the world.
For more information, visit the Volvo Ocean Race website.
Centro Náutico de Algés
Passeio Marítimo de Algés
Torre VTS
Algés
Lisbon