Art and technology converge in a new exhibition at the Casa de Serralves in Porto. In fact, you must use your smartphone or tablet computer in order to view this unique exhibit. "Walls to the People," created by artist João Paulo Feliciano with the support of SIM – Movement for Creativity in Portugal by Samsung, is the first installation of augmented reality in Portugal. The high-tech virtual art exhibit runs through 3 June 2012.
————————————————–
[ad name="Google Adsense Image Banner for Posts "]
————————————————–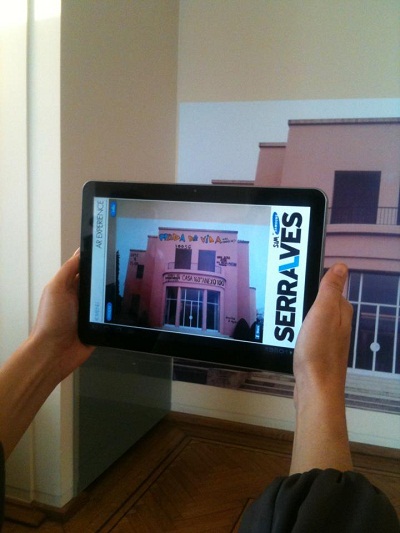 This project was inspired by the very walls of the Casa de Serralves. The "art" consists of images of the exterior walls of the facility. Using a special app, viewers point their mobile devices at special locations in order to view art works that only exist in the virtual universe. Soon hidden inscriptions appear, emulating visual messages of graffiti found in public spaces.
Feliciano is a Portuguese visual artist and musician, renowned for expressing himself via multiple creative outlets. His work run the gamut of installation, painting, drawing, photography, video, light, sound, music, graphic design, architecture, performance, among many others.
According to Pedro Gândara, Corporate Marketing Manager at Samsung Portugal, "This project, jointly developed by Samsung and Serralves, reinforces the shared desire of both organizations in bringing the art technology. We believe that technology is indeed a privileged way to enjoy the art and we want the consumer has the opportunity to demonstrate, through an interactive experience, cultural and graceful."
To learn more about the Serralves Contemporary Art Museum, see our page here.


Serralves Museum of Contemporary Art
Rua Dom João de Castro,210
4150-417 Porto
Phones:
Telephone: +351 226 156 500
Fax: +351 226 156 533
Ticket Reservations: +351 226 156 584
Guided Tour Scheduling: +351 226 156 546
Hours:
April to September
Tuesday to Friday: 10:00 to 17:00
Saturday, Sunday and Public Holidays: 10:00 to 20:00
October to March
Tuesday to Friday: 10:00 to 17:00
Saturday, Sunday and Holidays: 10:00 to 19:00
Closed Mondays, and on December 25 and January 1
Prices:
Museum and Park – €7.00
Park – € 3.00
Car Park – €0.80/hour
Free: Under 18 years, Friends of Serralves, Higher Education Students & on Sundays from 10:00 to 13:00 (until 14:30)