ModaLisboa, the purveyors of fashion in Portugal, have a special surprise for July 2013…the Wonder Room! It's a spectacle of Portuguese style all wrapped up into one cool pop-up store. It's fashion and lifestyle. It's designers and DJs. And, it's temporary! So, mark it on your calendar and check it out 5-14 July.
————————————————–



————————————————–
During the 10 day extravaganza, fashionistas can sift through a variety of Portuguese-made products from clothing and bags, to jewelry and perfumes. Brands participating in Wonder Room include: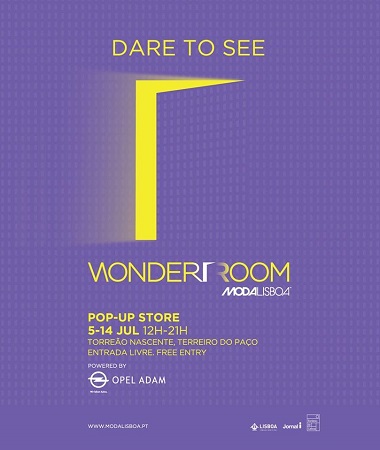 Saymyname ■ Ideal & Co ■ Jannis del' Arte ■ Valentim Quaresma ■ Manjerica ■ Natacha Duarte ■ Best Sunday Dress ■ Roda Gira ■ Umbrae ■ Wasted Rita ■ Krv Kurva ■ Ceagage ■ Change ■ Daniela Ponto Final ■ Latitid ■ WetheKnot ■ Teresa Gameiro ■ Quimera Species ■ Antiga Barbearia do Bairro ■ Castelbel ■ Aldeia da Roupa Branca ■ Around the Tree ■ Pura Cal ■ Projeto Remix ■ and other exclusive products.
The Wonder Room features a terrace overlooking the Tagus River. This space will play host to a full program of events including presentations by fashion designers Alexandra Moura, Dino Alves, Philip Sparks and White Tent.
Music also plays a key role in the Wonder Room with DJs such as The Lovely Bastards, Bitsound, Midnight, Bangkok Snobiety, Cpt Luvlace, Noir, Cement, Da Chick Mad.Mac, Ivvvo and $ Bandit electrifying the atmosphere.
See you at the Wonder Room!
Wonder Room ModaLisboa
Torreão Nascente do Terreiro do Paço
Praça do Commercio
Lisbon
Click here to see Praça do Comercio on Google Maps
5-14 July – 12:00 to 21:00
Free Entrance