For the last few centuries, the city of Covilhã on the southern slopes of Serra da Estrela, in the district of Castelo Branco, has been known primarily for wool manufacturing. Most residents of the mountainside community are, in some way, connected to the many wool factories located around the city. Yet, in the last few years, Covilhã has emerged as an internationally-recognized center for urban art and culture, thanks to the entrepreneurial spirit and passion for art by three locals:  Pedro Seixo Rodrigues, Elisabet Carceller and Lara Seixo Rodrigues.
--------------------------------------------------
--------------------------------------------------
"For a long time, we thought that Covilhã was ideal for urban art, but didn't know exactly how to make it happen," says Carceller. "Then, we talked to some artists, explaining to them our idea of a festival, and everyone was excited and willing to participate."
"Convincing City Hall was relatively easy, especially after gaining the support of government cultural agency DGArtes," continues Carceller. "After all, Covilhã is the perfect 'canvas' to attract urban artists. There are many buildings and abandoned factories with blind walls, numerous areas to rehabilitate with new life and color. And, the city's population is receptive to surprises and outside-the-box activities."
WOOL – The Urban Art Festival of Covilhã was the result. The term "Wool" was chosen both for its close association to the primary industry of the city, and its similar pronunciation to "wall".
After identifying numerous public walls around the city, the team commissioned world famous urban artists to create murals. An event program was built around each work. The public was invited to follow along by observing the progress in person. As well, each artist would participate in activities such as workshops and seminars to further encourage relationships between the art and citizens. Significant works emerged….
Vhils
Lisbon-born Vhils (aka Alexandre Farto) has become internationally famous for his urban art in major metropolitan cities around the world. Although he started with traditional graffiti methods, he experimented with different techniques to develop a style that is uniquely his own. Instead of painting, Vilhs chips away at the wall, creating textured effects that form detailed images when viewed from a distance. Perhaps not many of the people passing by his work on Rua Visconde de Coriscada, realize it was produced by one of the art world's hottest contemporary artists.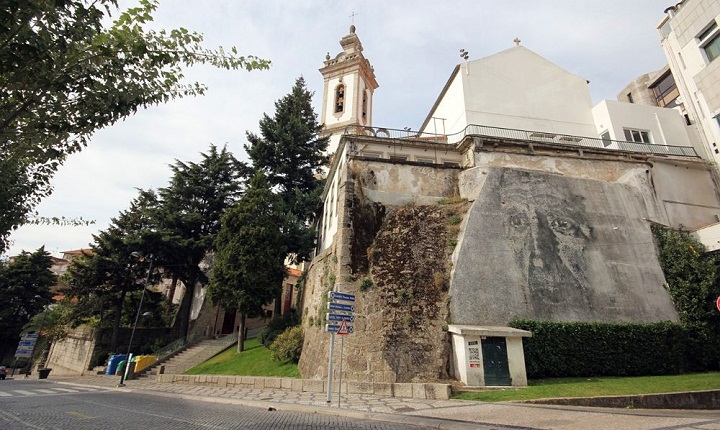 ARM Collective
Two Portuguese artists have come together in an urban art collaboration called ARM Collective. RAM (aka Miguel Caeiro from Sintra) and MAR (Gonçalo Ribeiro from Seixal) combine their techniques of freestyle graffiti and figurative motifs, respectively, to create large-form murals. Painting freehand, their works take on a life of their own: uniquely adapted to the space, and enchantingly interesting to onlookers. Their mural in Covilhã is on the east end of Rua Jornal da Covilhã.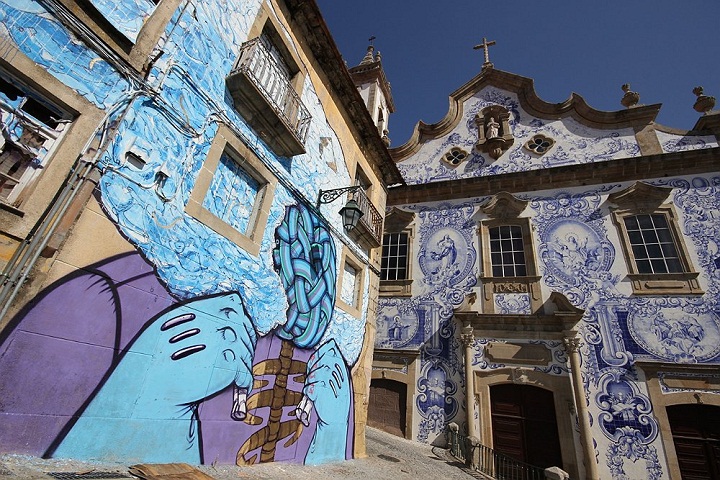 BTOY
The photography origins of BTOY (aka Andrea Michaelsson of Barcelona) are evident in her street art. Layers of paint are sprayed over stencils, many cut from photographs. Much of her work is inspired by women from the past. In Covilhã, BTOY has created art in several city locations but perhaps the most commanding image is on the side of a house in Largo da Nossa Senhora do Rosario.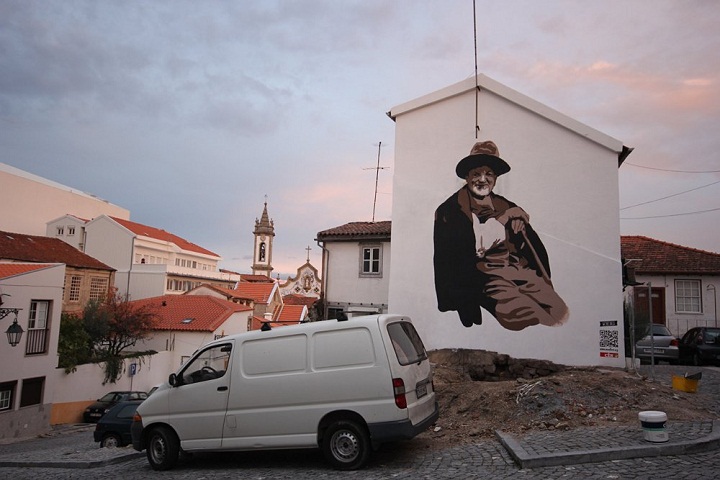 Inside Out Project
Add Covilhã to the many cities with an installation from the Inside Out Project. French artist JR uses black and white photographic portraits to transform messages of personal identity into inspirational urban art. In Covilhã, 44 posters, placed on an old factory building at Calçada de Santa Cruz, depict 44 persons who, in a way or another, have been linked to the wool industry of the city.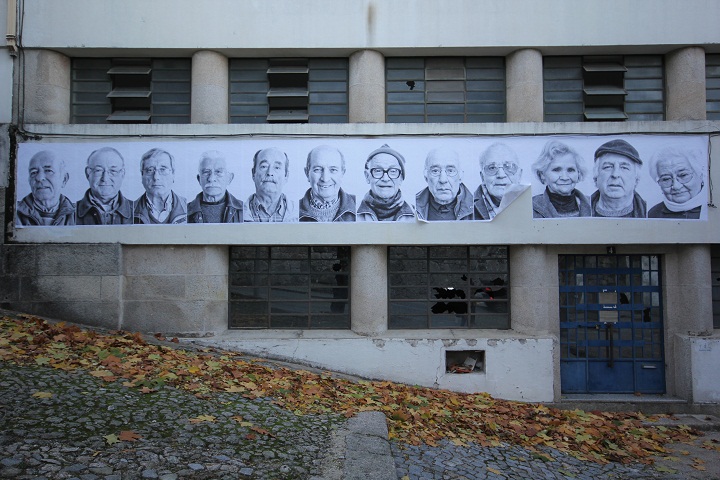 Ultimately, the founders of Wool hope to not only promote urban art in Covilhã, but they also would be delighted to see artists emerge from the local community. Similarly, they hope to grow the local economy by transforming Covilhã into a cultural destination for tourists.
The founders at Wool are stretching their vision beyond Covilhã too.  Wool on Tour invites urban artists to paint in other locations.  To date, two editions of Wool on Tour have taken place at LX Factory, in Lisbon.   A couple significant works from these events include murals from  Mario Belém and Hugo Makarov (inspired by Fernando Pessoa's Livro do Desassossego) and Addfueltothefire (emulating Portuguese tiles).  A third WOOL on TOUR takes place at LX Factory on 10 May with 10 artists participating.
And recently, Wool put spray cans into the hands of elderly Lisboetas from the Parish Social Center of Alcantara. The project known as LATA 65 Workshop was a collaboration with Coworklisboa.  The mission of the five-day course was to bring together the youth-less form of artistic expression, with a technique usually associated with contemporary youth–urban art.  This and other workshops are an on-going strategy for Wool.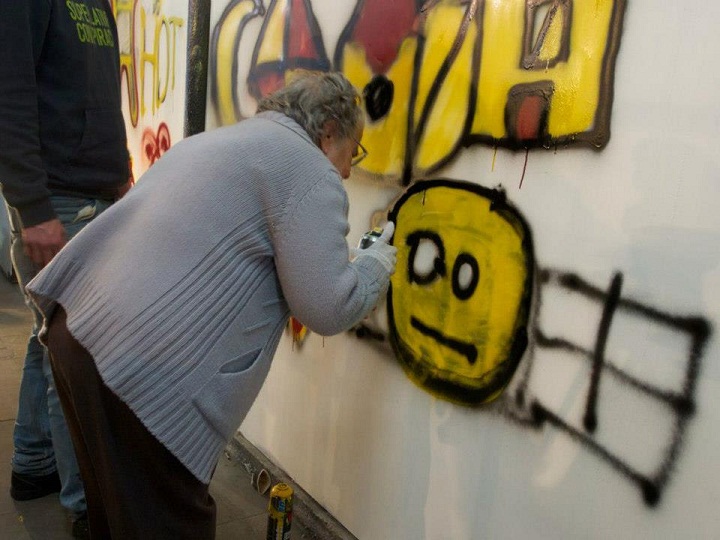 What's next for Wool? According to Carceller the economic crisis poses a challenge for making Wool Fest an annual event. Yet, in the mean time, she says, "we will continue to invite artists to the city, to paint pieces of smaller dimensions, and we will continue to organize activities related to urban art in other places as we can."
Wool also dreams of a parallel project…which is to create a Center for Urban Art & Culture. Watch this space…..
For more information on this impressive and admirable venture, visit the Wool website. For more information and inquiries, send email to info@woolfest.org.
Images courtesy of Pedro Seixo Rodrigues and WoolFest