The past year has seen numerous significant events, tragedies and triumphs that have reshaped governments and changed peoples lives. Daring and creative photojournalists were on the scene to capture these monumental moments. Every year, World Press Photo celebrates the work of photojournalists by sifting thought tens of thousands of images to select the very best of these compelling pictures. The works recognized in 2015 are currently on exhibit at Lisbon's Museum of Electricity until 24 May.
--------------------------------------------------
--------------------------------------------------
World Press Photo is an independent, non-profit organization based in Amsterdam. The best images of 2015 were selected by a jury of 16 internationally recognized professionals in the field of photojournalism and documentary photography. Their choice for World Press Photo 2015 winner was Danish photographer Mads Nissen's intimate depiction of a gay couple living in St. Petersburg, Russia.  A small selection of other winning photos appearing in the exhibition follow: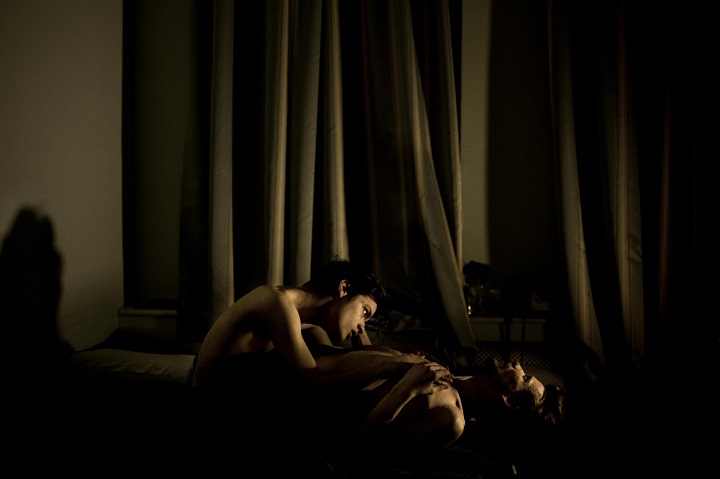 World Press Photo of the Year & First Prize, Contemporary Issues Singles
Jon and Alex, by Mads Nissen (Denmark) – Jon and Alex, a gay couple, share an intimate moment at Alex's home, a small apartment in St Petersburg, Russia. Life for lesbian, gay, bisexual and transgender (LGBT) people is becoming increasingly difficult in Russia. Sexual minorities face legal and social discrimination, harassment, and even violent hate-crime attacks from conservative religious and nationalistic groups.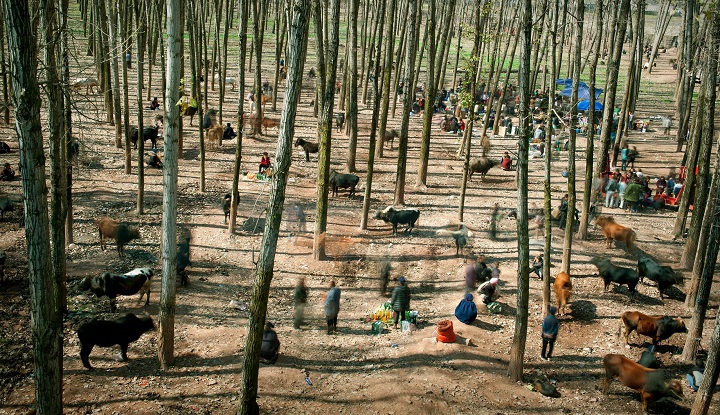 First Prize, Daily Life Singles
The Bull Market, by Cai Sheng Xiang (China) – Yi villagers hold a cattle market in a forest outside the town of Niuniuba, near Liangshan, in Sichuan. The Yi ethnic minority live largely by agriculture, livestock herding and hunting. There are around 7.5 million Yi in China, concentrated principally in Sichuan and Yunnan provinces.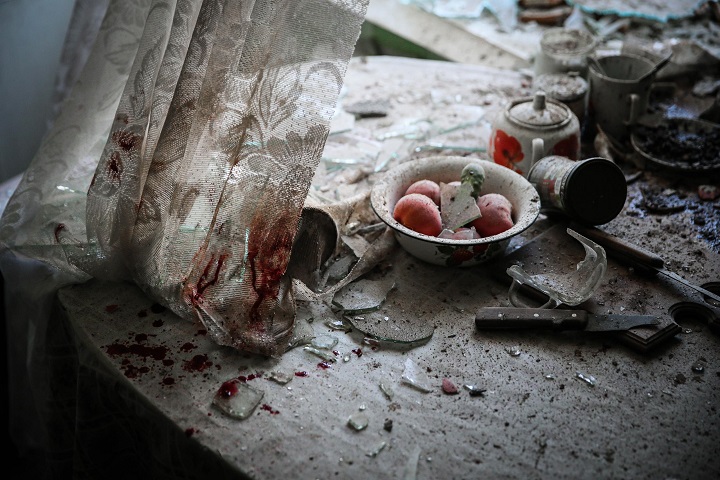 First Prize, General News Singles
Kitchen Table, by Sergei Ilnitsky (Russia) – A kitchen table in Donetsk, on 26 August, a day on which several districts of the city came under artillery fire from government troops.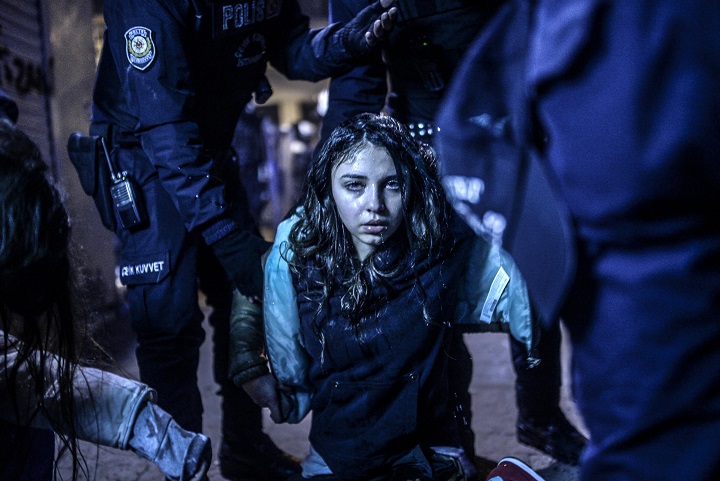 First Prize, Spot News Singles
Istanbul Protest, by Bulent Kilic (Turkey) – A young girl, wounded during clashes near Taksim Square in Istanbul, Turkey.
The Final Game, by Bao Tailiang (China) – Argentine player Lionel Messi faces the World Cup trophy during the final ceremony at Maracana Stadium, in Rio de Janeiro, Brazil, on 13 July. Argentina lost to Germany 1-0, after a goal by Mario Götze in extra time. Messi, who is ranked as one of the best footballers in the world, was awarded the Golden Ball, as the tournament's best player—a decision that sparked controversy, as he had scored no goals in the knock-out stage.
Orphaned Rhino, by Ami Vitale (USA) – A group of young Samburu warriors touch a black rhino for the first time in their lives, at the Lewa Wildlife Conservancy, in northern Kenya. Black rhinos are almost extinct in Kenya. This young calf had been orphaned when poachers killed its mother, and was hand-raised at Lewa. Most people in Kenya never get the opportunity to see the wildlife living around them, especially at such close quarters.


(At Top of the Page)
Daily Life, Third Prize, Stories
Behind a Window Blind, by Turi Calafato (Italy) – A fast-food restaurant in Japan. In some modern cultures, the activity of eating is often a solitary experience: in single seats at solo tables.
For more information, visit the World Press Photo 2015 website.
Museu da Electricidade, Fundação EDP
Av. de Brasília
Central Tejo
Lisbon
Phone: +351 210 028 130
Hours: Tuesday to Sunday – 10:00 to 18:00
Entrance: Free
Click here to see World Press Photo 2014.
Click here to see World Press Photo 2013.
Click here to see World Press Photo 2012.