The goal is "to create unique experiences for our customers." With that in mind, the innovative team behind Wrong Weather has built one of the most exciting menswear shops in Porto. It is a perfect fusion of fashion, art and design for the contemporary man.
Located on Av. da Boavista not far from Casa da Musica, Wrong Weather is more than just a clothing store. It is a design shop that blends the best of latest fashion with cutting edge products, in a space that feels like you stepped into an architecture magazine. To compliment the creative ambiance, an art gallery is worked into the project. In fact, Wrong Weather won Best Design Shop at the 2010 Portugal Fashion Awards.
--------------------------------------------------
--------------------------------------------------
But, what's up with the name? According to owner João Pedro Vasconcelos, the store's name is meant to counteract the myth that Porto skies are always gray. It is a nod to a quote by writer Fiona McCade, "there's no such thing as bad fashion, just the wrong weather."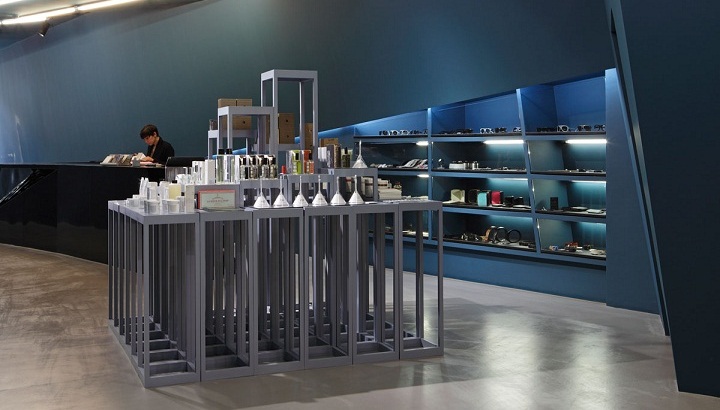 The Wrong Weather team has assembled a unique collection of product from designers around the world. Menswear from France, the United States, Japan, England, mingle with the latest designs from Portugal's established and up-and-coming designers. Currently, the shop carries such brands as:
A.P.C. ■ AB APART ■ ABSOLUTION ■ AETHER ■ AMBUSH ■ ANTHONY PETO ■ ARCHIE GRAND ■ ARMANDO CABRAL ■ ATHAS ■ BILLIONAIRE BOYS CLUB / ICE CREAM ■ BINDEWERK ■ BLAAK ■ BLUELOUNGE ■ CALÉ FRAGRANZE D'AUTORE ■ CHRIS & TIBOR ■ CHRISTOPHER RAEBURN ■ COMME DES GARÇONS SHIRT ■ COMMON PROJECTS ■ D.R. HARRIS ■ DANIEL DINIS ■ DARK SHADOW BY RICK OWENS ■ DRIES VAN NOTEN ■ FALKE ■ FIELD NOTES ■ FIFTH AV SHOE REPAIR ■ GOLD BUNNY ■ HELIT ■ HISTOIRES DE PARFUMS ■ ISSEY MIYAKE WATCH ■ KYOKU ■ LE LABO ■ LGR-SUNGLASSES ■ LINDA FARROW ■ MAGAZINES&BOOKS ■ MARS ■ METAPHYS ■ MIMOBOT ■ MISS BIBI ■ MYKITA ■ NICOLAS & MARK ■ NIKE ■ NUDE:MASAHIKO MARUYAMA ■ OFFICINE CREATIVE ■ ONE-T-SHIRT ■ OPENING CEREMONY ■ ORLEBAR BROWN ■ ORNER ■ PIERRE HARDY ■ PORTER ■ RECIPE FOR MEN ■ RICARDO DOURADO ■ STEPHAN SCHNEIDER ■ STRIDA ■ UNIFORM WARES ■ USUS ■ WRONG WEATHER ■ YMC ■ YOHJI YAMAMOTO
A Wrong Weather branded label is also available. Clothing, accessories, skin care and luggage all are designed and produced to be clean, mindful, responsible, detailed and affordable.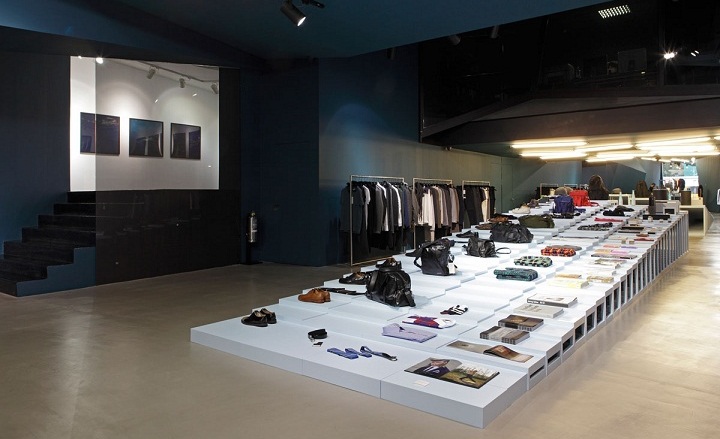 While browsing the racks, don't forget to visit the art gallery. The entrance is inside the shop. The gallery has already had successful exhibitions featuring different styles and formats of photography. Also envisioned are shows featuring architecture, design and painting.
Check out the Wrong Weather website too. Not only does it offer the ability to purchase items online, but it also is a showcase for seasonal designer collections, designer news, and schedules for art exhibitions.
Wrong Weather
Av. da Boavista, 754
4100-111 Porto
Phone: +351 226 053 929
Fax: +351 226 053 930
Email:  wrongweather@wrongnet.net
Hours: Monday to Saturday – 10:30 to 19:30 (open at lunch hour as well)
Architectural Photography by Rita Burmester